State Attorney Marta Silva de Lapuerta filed the challenge Wednesday before the Constitutional Court after the conservative central government of Prime Minister Mariano Rajoy decided earlier to turn to the courts to block secession of the north-eastern province.
"It's not just a reaction to a motion passed in parliament, this is about defending a whole country," Rajoy told a news conference after a cabinet meeting. "This is a blatant disregard for the state's institutions. They are trying to do away with democracy. I will not allow it."
Pro-separatist Catalan lawmakers approved a text on Monday, which calls on the regional assembly to begin work on legislation within 30 days to create a separate social security system and treasury, with a view toward full independence in 18 months.
The Constitutional Court is expected to suspend the secession plan while its legality is studied, but Monday's resolution specifically orders the regional Catalan government to ignore rulings by Spain's highest court.
The central government has also empowered the court to suspend public officials who ignore its rulings, setting both sides up for a collision course that could trigger a national crisis.
Defiance in Barcelona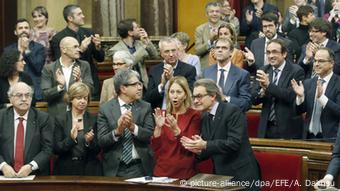 Lawmakers from Catalonia's parliament celebrated the approval of the independence resolution in Barcelona on Monday.
Pro-independence parties in the Catalan parliament won a majority in September, though they secured less than half the vote.
Artur Mas, the head of the pro-secession group and acting regional president, lost a Tuesday vote to secure his leadership of the 135-seat Catalan parliament.
Radical pro-independence allies voted against him because of his support for unpopular austerity measures and his party's links to corruption scandals. Another round of voting is expected soon.
Catalonia, a region of 7.5 million people that borders France, has its own language and has its capital in Barcelona, Spain's second largest city. As a region it accounts for a fifth of Spain's economic output and enjoys a large degree of autonomy in education, health and policing.
jar/kms (Reuters, AP, dpa)