Votes are being counted on the Spanish mainland after general elections were held on Sunday.
According to an exit poll for Spanish television station TVE, the ruling socialists (PSOE) are estimated to have taken just under 28% of the vote, which would give them between 116 and 121 seats in the 350-seat Congress.
Socialist Prime Minister Pedro Sanchez's former partners in government, Podemos, appear to have lost ground, coming in fourth with 16.5%, which would reduce their number of seats to fewer than 50.
Among conservative parties, the Popular Party (PP) increased its vote to come in second with an estimated 19%, giving them up to 79 seats. Third came the Citizens party with 16% and up to 55 seats. The new, far-right Vox party appears to have come in fifth place with about 11% of the vote. That would allow them to enter parliament for the first time with up to 33 seats in the lower house.
Catalonia's pro-independence Republican Left of Catalonia (ERC) party gathered 2.8% of the vote, and a possible 11 seats. It gained 9 seats in the national vote in June 2016. Turnout in the region was significantly higher than in the last elections, up to 64.2% on Sunday from 46.4% in 2016. It was the first national election since the failed secession attempt in 2017.
Turnout higher
Turnout for the elections had reached 60% by 6 p.m. (1600 UTC) according to Spain's Interior Ministry on Sunday. That compared to 51.2% by the same time for the previous elections in June 2016.
Spain's 36.8 million voters had until 8 p.m. local time (1800 UTC) on the mainland and until an hour later on the Canary Islands to cast their votes.
Four of the top five party leaders cast their votes in the capital Madrid. Only the center-right Citizens party leader, Albert Rivera, voted in his hometown near Barcelona.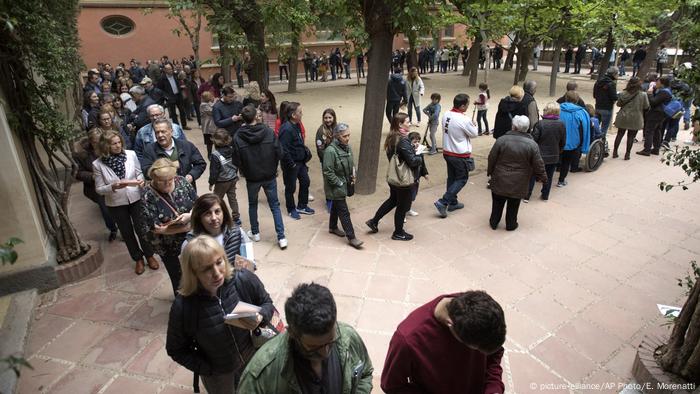 Voters stand in line in Barcelona
A call to vote
Socialist Prime Minister Pedro Sanchez called the vote after failing to gain enough support in Congress to pass his 2019 budget plan.
The campaign had centered on a debate over national identity and other issues such as gender equality.
All the leaders urged their supporters to turn out and vote. Sanchez told reporters after he had voted in Madrid: "Above all else today, Spaniards should vote in large numbers to send a ... clear message of what we (as a nation) want over the next four years."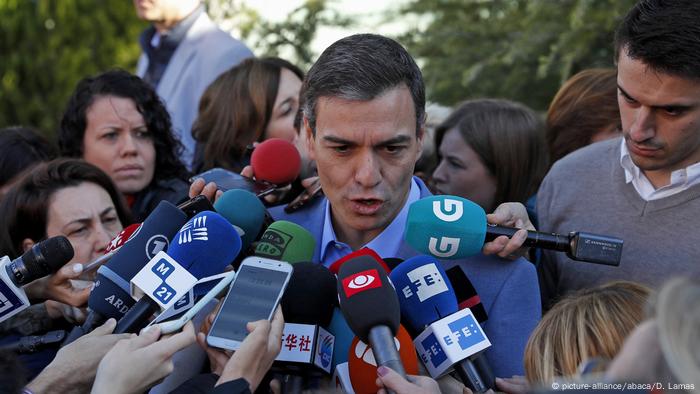 Prime Minister Pedro Sanchez after he cast his vote
Ahead of the poll, many voters said they had not made up their minds about who to vote for. Some surveys suggested 40% were undecided ahead of Sunday's ballot, complicating predictions about the outcome.
jm/amp (Reuters, AP)
Every evening, DW sends out a selection of the day's news and features. Sign up here.