Officially, the election in the northeastern region of 7.5 million inhabitants will choose representatives of the Catalan parliament. However, nationalists, led by regional premier Artur Mas, are also using it as a plebiscite on independence. Mas has formed a separatist coalition with fellow politicians and grass roots candidates and if they win 68 or more of the parliament's 135 seats, they plan to begin a process of secession that would be completed by 2017.
"Faced with all the pressures and powers that line up to abort this operation of freedom and democracy, we must show that the voice and decision of the Catalan people is worth more than all the power that Madrid is mobilising," Mas told supporters in the town of Manresa.
With the Spanish government opposing the independence drive, Spain has been plunged into its deepest political crisis of recent years. Prime Minister Mariano Rajoy has vowed to block the initiative via the courts, arguing that secession would violate the constitution.
'We are all Catalonia'
"You have to go out and vote to tell Mas: 'You are not Catalonia, we are all Catalonia'", Rajoy told supporters at a rally in the town of Reus.
The prime minister added that there is "a majority of Catalans who love their land and their people and they do not want to be amputated."
Those who want independence argue that the Spanish state does not invest enough in their region, the country's wealthiest, and that Catalonia's language and culture have been repressed.
"We're hoping to get a majority so that we can make the Spanish government give us independence and let us be a free country," said Juan Roura Sanchez, a metal worker who demonstrated in favor of independence in the streets of Barcelona with hundreds of thousands of others on September 11, Catalonia's Diada, or national day.
"We feel angry and impotent, it feels like we're in a country which is heading towards a dictatorship. We've already had one before, we don't want another," he told DW.
'Unprecedented elections'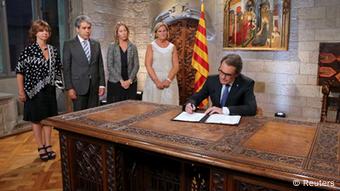 Mas is using the election as a push for independence
Polls suggest it will be a close election with Mas's coalition, Junts pel Sí (or Together for Yes), close to clinching the majority of seats. If it falls short, it could need the support of the leftist, pro-independence Popular Unity Candidacy (CUP). However, CUP has expressed reservations about backing Mas, a conservative nationalist, for another term as Catalan premier.
"These are unprecedented elections," sociologist Josep Lobera, of Madrid's Autonoma University, told DW.
"The only issue being debated in these elections is whether or not there should be independence. Such is the atmosphere that all other questions are in the background, nobody is talking about anything else."
The Junts pel Sí coalition has said that if it wins it will immediately embark on secession, beginning the process of creating new Catalan institutions and a constitution. According to this "roadmap," Catalonia would be independent between six and 18 months after Sunday's election.
Such a move would almost certainly defy the courts, which are expected to rule against any kind of break from Spain. However, in November 2014, Mas ignored a ruling by the Constitutional Court and staged an unofficial referendum on independence. Just over 80 percent of those who voted backed secession, although turnout was low due to the ballot's illegal status.
Beyond legal issues, critics have highlighted a number of other obstacles to the independence project, including Catalonia's possible ejection from the European Union.
Financial risk
On Tuesday, European Commission President Jean-Claude Juncker said this would be the case, in response to a query by conservative MEP Santiago Fisas. "No regional parliament can contradict the national constitution," he said.
That followed similar recent statements by German Chancellor Angela Merkel and British Prime Minister David Cameron.
The economic repercussions of independence have also come under scrutiny in the closing stages of the campaign. Bank of Spain governor Luis Maria Linde has warned that loss of EU membership would have monetary and other financial effects.
"Catalonia's exit from the euro would be automatic," he said in a panel discussion in Madrid. "If there were serious tensions there could be a deposit freeze, as we've seen in Latin America and Greece."
Those comments came shortly after two associations representing several major Spanish banks issued a joint communiqué on the risks of independence for Catalonia, which, they said, included exclusion from the euro zone, judicial insecurity and a shortage of credit.
Economic 'scaremongering'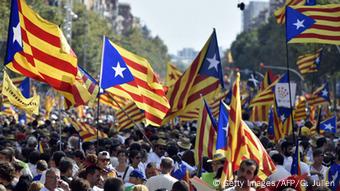 The Catalan issue has plunged the government into a deep crisis
Mas accused the Bank of Spain's governor and others in Madrid of scaremongering on behalf of the central government.
"We are in the 21st century, not the middle ages," he said. "They know perfectly well that [what they have said] is a lie, they just want to maintain the status quo and scare people, influence their vote."
With a general election expected in December, the results of Sunday's vote will have added importance. Polls show Rajoy's governing Popular Party (PP) on course to suffer severe losses in the Catalan parliament, with a rival pro-union party, Ciutadans, making big gains.
Meanwhile, new anti-austerity party Podemos is making its debut in a Catalan election, in coalition with other leftist forces. Catalunya Sí que es Pot (Catalonia yes we can) advocates a negotiated referendum for the region, but not independence.