Artur Mas said on Tuesday that the region would likely split from Spain, should Catalan pro-secession parties triumph in a vote for the regional parliament on Sunday. Mas framed the vote as an alternative independence plebiscite.
Opinion polls show that separatist parties could manage to take the majority of seats in Catalonia's 135-seat regional parliament.
In an interview with Reuters, Mas said he no longer believed there was a possibility of reaching a deal with Madrid on enhanced autonomy. He also questioned the ability of Madrid to offer an in-or-out vote - even after a national election in December - with all major parties in the capital being opposed to the possibility.
"I am very skeptical that a new Spanish government could offer a deal to Catalonia on holding a referendum," said Mas, leader of the liberal nationalist Democratic Convergence of Catalonia. He warned that a majority of seats for the pro-independence parties would trigger a road map towards independence - even if those parties did not have the majority share of the actual vote.
"If the question is 'will you stop the political process in Catalonia?,' the answer is no, not until we have the certainty that we have a specific date for a binding referendum on independence," Mas said.
Warning from Madrid
Meanwhile, Spanish Prime Minister Mariano Rajoy warned that an independent Catalan state would face numerous problems.
"There are some people who say Catalan independence is the panacea that cures all ills, that it will generate jobs," he told Spanish radio station Onda Cero on Tuesday. "None of that is true."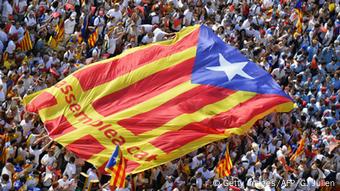 Huge numbers of Catalans poured onto the streets this month to voice support for independence
"It would leave the EU. What would happen with pensions? There are many more pensioners than contributors, what would happen with financial institutions, what would happen with bank deposits, to the currency?" he asked.
Rajoy added that any move by nationalists to split from Spain after the elections would have no legal value. "We would obviously go to the Tribunal Constitutional [Constitutional Court]," he said.
'Clear and specific mandate'
Mas had claimed in his Reuters interview that the Tribunal Constitutional - which has ruled regionally-instigated independence votes illegal - would not be able to stop the process, if there was a clear signal from voters on Sunday. He also said that any constitutional arrangement or fiscal pact with Madrid would no longer be possible, after the central government blocked negotiations on such an outcome.
"If we get a clear and specific democratic mandate on Sept. 27, things will change because in the end the independence depends on our will," said Mas.
Under the rule of dictator General Francisco Franco, the Catalan language was suppressed and many specifically Catalan institutions were banned.
Although Catalonia has won a large measure of autonomy since Franco's death in 1975, separatist sentiment has been on the rise in recent years.
An estimated 1.4 million people rallied in Barcelona earlier this month, according to city police, although central government sources said the number was far lower.
rc/msh (Reuters, dpa, AFP, AP)