Authorities in South Sudan served Michael Morrow, the charge d'affaires at the US embassy in Juba, with a protest letter after Nikki Haley called the South Sudanese leader, Salva Kiir, "an unfit partner". Haley said on Wednesday, "the United States is giving up on South Sudan's president after backing the country's independence in 2011 and investing over $11 billion (€8 billion), in the pursuit of peace."
Haley also blamed Kiir for last month's promotion of three generals sanctioned by the United Nations Security Council in 2015 for leading "the slaughter" of civilians. In a hard-hitting speech to the council, Ambassador Haley called the generals' promotion "a slap in the face" of the council of nations that supported the Kiir government, and "of basic decency." Other countries also blamed South Sudan's leader for doing little to end the suffering of ordinary South Sudanese.
Haley then called for an arms embargo on the conflict-racked nation. Baak Valentino Wol, undersecretary at the South Sudan ministry of foreign affairs, described Haley's statement as defamatory and derogatory to South Sudan. While handing over the protest letter to Morrow, Wol said, "Ambassador Haley seems to forget that the Republic of South Sudan is a sovereign state and its leadership and transitional government of national unity deserve respect."
"Ambassador Haley's remarks do not serve well the good relations which the people and government of South Sudan always wish to exist between the two peoples and government," Wol added, saying that the United States had no right to call for an arms embargo against South Sudan.
Resumption of failed peace process
Ambassador Haley's statement comes two weeks ahead of the resumption of peace talks between the government and various armed opposition groups across the country due to take place in the Ethiopian capital, Addis Ababa. James Okuk, a lecturer in political science at the University of Juba, told DW that the growing spat between Juba and Washington highlights growing frustrations, especially among international partners.
Okuk believes that Haley's critical statement was meant to increase international pressure, especially on Juba, ahead of the peace talks. "The fact that they [US officials] are giving out this statement at this time, it means that they are putting maximum pressure on the government. They want a quick compromise without delay," Okuk said.
31-year-old Wani Joseph, a resident of Juba, welcomed calls for an arms embargo on South Sudan because he thinks that it may prompt Juba to rethink the way it is handling the political crisis. "Partly it could be a solution to the ongoing conflict in South Sudan because at the moment you see the government is using a lot of resources of the country to buy weapons instead of solving the problems that the citizens are suffering from."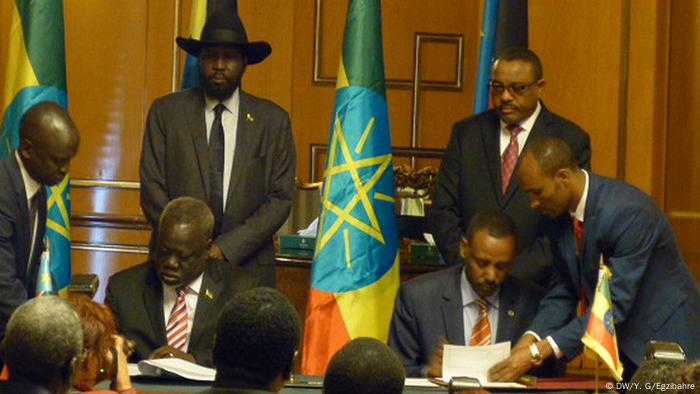 Various peace agreements signed in Ethiopia's capital Addis Ababa have been violated with both sides blaming each other
South Sudan plunged into ethnic violence in December 2013 when forces loyal to Kiir, a Dinka, started battling those loyal to his former vice president Riek Machar, a Nuer. An August 2015 peace agreement has not stopped the fighting, and clashes in July 2016 between supporters of Kiir and Machar set off further violence and spread to other groups. The latest peace deal, organized by the regional group, Intergovernmental Authority on Development (IGAD), was broken in just hours.