South Sudan's former military chief, Paul Malong, on Tuesday announced the formation of a new opposition party to challenge President Salva Kiir.
Malong said the South Sudan United Front (SS-UF) was founded to "arrest the carnage" of South Sudan's ongoing civil war.
In a statement, the former ally of Kiir accused the president of plundering the country "with reckless impunity."
A new player in the upcoming peace talks
Malong said he wants the new party to participate in peace talks, which are due to take place later this month in Addis Ababa, Ethiopia.
"For these talks to yield a long-lasting solution to South Sudan, we must discuss the root causes of the conflict," Malong said. "This is the only way we will achieve peace for posterity."
Malong also said Kiir should "not be entrusted with midwifing" any agreement from the talks.
The new party is the 14th opposition group which plans to participate in the peace talks. Ahmed Soliman, a research associate with the Africa Program at Chatham House, told DW that Malong will likely play a significant role in the discussions.
"Given that he has backing and he has support, he is clearly going to be one of the actors that has to be looked at as part of an overarching deal," he said.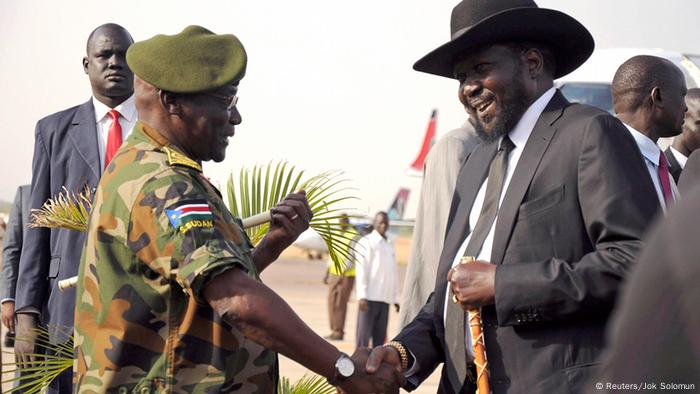 Former South Sudanese military chief, Paul Malong, and President Salva Kiir were once allies and are both members of the ethnic Dinka community
Read more: Little progress two years after South Sudan peace deal
Military chief turned rebel
Malong was appointed military chief in January 2014 and attempted to stamp out the rebel group of former president Riek Machar.
He was dismissed from his position in May 2017 and placed under house arrest. He was later released for medical treatment and fled to neighboring Kenya. He never returned, prompting Kiir to declare him a rebel.
"Malong has confirmed what we have been saying from the day he left Juba," said presidential spokesman Ateny Wek Ateny. "We have said time and time again Malong is a rebel. This is what he has been working for."
Chatham House's Soliman believes Malong's latest move is indeed a form of rebellion against his former allies and is likely to draw plenty of support.
"As a military man he will have an armed backing, but we don't know what that armed backing will look like in terms of size, or in terms of those who join his group," he said, "We know that they are an additional actor in an very fragmented and hostile conflict where active fighting is taking place. Malong's history would seem to suggest that he would have armed support and this won't simply be a political undertaking."
South Sudan's government troops on patrol. Senior members of the government have been accused of serious human rights abuses during the civil war
As a member of the ethnic Dinka community — like Kiir — Malong continues to enjoy significant support. South Sudan's conflict has increasingly involved a variety of ethnic groups in the region, although it initially pitted the Dinka and Machar's Nuer against one another.
During his time as military chief, Malong was accused of controlling an ethnic militia known as "Dot Ke Beny" (Rescue the President) or "Mathiang Anoor" (Brown caterpillar), which carried out human rights abuses against civilians.
In September last year, the US Treasury Department accused Malong and other senior South Sudanese officials of "destabilizing South Sudan" and enforced sanctions on them.
A country at war
South Sudan has remained in a state of civil war since the end of 2013 after seceding from Sudan in 2011. Since the beginning of the conflict, more than four million inhabitants have fled and tens of thousands have been killed.
A ceasefire was signed on December 24, however it was broken only hours later. The most recent talks held in February failed to yield results.
General elections are planned for South Sudan in July.