The EU expressed its regrets over Prime Minister Isa Mustafa losing the support of the Kosovo parliament on Wednesday. The latest crisis is likely to complicate several open issues between Kosovo and its neighbors, including the critical border dispute with Montenegro and EU-sponsored talks about normalizing ties with Serbia.
Kosovo leaders and institutions "mustn't lose sight of great challenges Kosovo faces," EU Commissioner for Enlargement Johannes Hahn said on Twitter.
The outgoing government found itself under fire after failing to push through a deal on recognizing borders with Montenegro. According to the opposition, the proposed demarcation line would cost Kosovo 82 square kilometers (31.6 square miles) of valuable pasture and farmland.
Despite the pressure from the EU and Pristina's closest ally, the US, Prime Minister Mustafa could not secure enough lawmakers for the deal to pass the parliament.
"The country is badly governed. The country needs a new government," said Valdete Bajrami of the NISMA opposition party. NISMA initiated the no-confidence motion by accusing the government of failing to meet its campaign pledges and creating public distrust.
'Exciting new chapters'
Mustafa, who previously served as the mayor of the capital Pristina, defended his cabinet ahead of the vote saying: "In my government there are no corrupt people."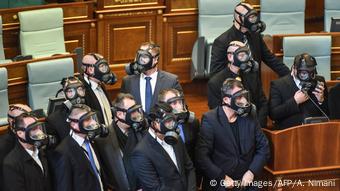 Opposition hardliners have repeatedly disrupted parliement sessions with tear gas
The prime minister also described the no-confidence motion as a "political pamphlet without any argumentative basis," warning it would result in "the country's destabilization through creating a lack of trust in institutions, and an institutional vacuum."
House speaker Kadri Veseli whose Democratic Party of Kosovo held 69 seats in parliament and was a coalition partner with Mustafa's Democratic League of Kosovo, posted a note on Twitter saying the country needed a new beginning "to open exciting new chapters of our history."
A new parliamentary election is expected in June.
Montenegro demarcation delay
The US called on the outgoing cabinet to "serve Kosovo's citizens - all of them – who are their employers.
The US embassy in Pristina also said that Washinton would "continue in our steadfast support for Kosovo, its citizens, and its path to full Euro-Atlantic integration."
The opposition has been calling for an end to Mustafa's government for the last two years over the dispute with Montenegro, but also over a deal with Belgrade which envisions more rights for Serbian communities in the former Serbian province.
Landlocked Kosovo shares borders with Albania, Macedonia, Serbia and Montenegro
Demarcation is a key demand from the EU - which Kosovo is hoping to join. The EU has said it cannot proceed with visa liberalization for Kosovo until the border issue with Montenegro is resolved.
Kosovo had previously achieved a similar demarcation agreement with Macedonia.
Opposition to the demarcation agreement goes back to the 1990s Balkan wars when the issue of territorial land was rooted in ethnic conflict. Kosovo broke with Serbia in 1999 and declared independence in 2008. While it has been recognized by 114 countries, Serbia, Russia, China, India, Iran and EU members Spain and Greece have not recognized Kosovo as an independent state.
jm,dj/rc(Reuters, AFP)