Germany's human rights commissioner, Markus Löning, is outraged. "The last really shocking case I experienced was a journalist I know personally, who was put under pressure," he says. The journalist in question is Khadija Ismailova, who found out what happens if you want to perform research for critical reports on the government in Azerbaijan.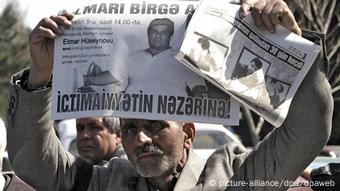 Demonstrations in Baku are usually put down firmly
In early March 2012 Ismailova received an anonymous letter containing explicit photos of her and her boyfriend that had apparently been shot with a hidden camera in her apartment. It included a note: "Slut, behave yourself, otherwise you will be exposed." Unfazed, she continued her research, and published the threatening letter. A week later, private videos were published on the Internet. The authorities refused to investigate the case. Löning calls this "unacceptable."
"Singing for democracy"
Human rights activists are pointing to cases like these ahead of this year's Eurovision Song Contest, one of Europe's major television events, which this year will be held in the Azerbaijan capital Baku on May 26. "This music festival should not just be about the culture and history of Azerbaijan, but also about human rights such as freedom of speech and assembly," Rasul Jafarov told a press conference for the journalists' human rights organization Reporters without Borders in Berlin on Tuesday. Together with other activists, Jafarov started a campaign called "Sing for Democracy" in 2011. Jafarov wants to draw Europe's attention to the situation in Azerbaijan using T-shirts and posters.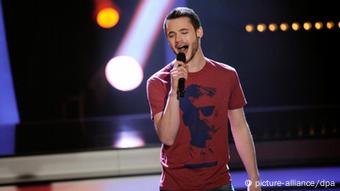 Roman Lob will represent Germany at the Song Contest
The case of journalist Ismailova is just the latest example, says Hugh Williamson, Director for Europe and Central Asia at rights organization Human Rights Watch. Some six journalists are currently detained in Azerbaijan, and the number has increased in the course of the last year. Williamson describes how the Azerbaijan justice system intimidates journalists: "A journalist who works for Iranian media was invited to a police station to answer some questions. He was told to take off his jacket. He went to another room. When he returned, he discovered a small quantity of drugs in his jacket."
Dozens of political prisoners
But it's not just the restrictions on press freedom that human rights defenders like Williamson criticize. Non-governmental organizations say dozens of people are held as political prisoners in Azerbaijan's prisons. Freedom of assembly has been severely restricted for many years, says Leyla Aliyeva, director of the Center for National and International Studies in Baku. "Any attempt at protest is suppressed by the government," she said.
In April 2011, an opposition meeting was permitted in Baku, the first in a long time, but only on the outskirts of the capital. Sixteen participants were subsequently arrested. Calls from the West for their release were ignored.
Mild criticism from the West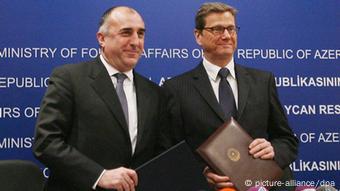 Mammadyarov, left, and Westerwelle didn't focus on human rights
Human rights activists see the situation in Azerbaijan deteriorating, not improving, ahead of the Eurovision Song Contest. They hope, however, that their pressure will make some difference. "We're hoping for a long-term effect," Löning said.
Löning says he was able to see that authoritarian Azerbaijani President Ilham Aliyev was feeling this pressure during a joint visit with Foreign Minister Guido Westerwelle in mid-March. Löning spoke critically about the human rights situation in Azerbaijan and was indirectly criticized by Azerbaijani Foreign Minister Elmar Mammadyarov, who said that the German human rights commissioner was in no position to act as a "mentor." Westerwelle avoided open criticism of the government in Baku, which maintains good business relations with Berlin.
Hope for political change
The West finds it hard to denounce human rights violations in Azerbaijan, Aliyeva says, with economic relations standing in the foreground. Large oil reserves make Azerbaijan an especially attractive trading partner, which is why both the EU and the US offer only muted criticism, she says.
Human rights activists are demanding that Western governments take a stronger stand in reminding Azerbaijan of its obligations to the Council of Europe. The same applies to the 46 decisions of the European Court of Human Rights in Strasbourg that concern the country, Löning says. Most of these cases relate to complaints by Azerbaijanis over violations of press freedom or excessive use of force by the police, he said. So far, Baku has yet to implement a single decision.
Author: Roman Goncharenko / sgb
Editor: Michael Lawton