Four months after Alibaba's initial public offering, the largest global IPO ever, investors are putting Alibaba shares to the test. That's how the stock market works: investors only make money when stock prices move. And the Alibaba stock price certainly did rise - a staggering 45 percent above its debut price. In such circumstances, the first hint of bad news has traders betting prices will fall.
This time, the bad news came from a Chinese regulatory authority, even though the last thing Beijing wants is to dent the success of Alibaba, the perfect ambassador of China's inexorable rise.
The State Administration for Industry and Commerce (SAIC) in Beijing recently complained that Alibaba Group Holding Ltd was failing to do enough to stamp out illegal business on its platforms. Jack Ma immediately issued a rejoinder and the authority retracted its statement, maintaining that the claims were not official and the problems could be worked out. Even in a centralized state like China, one hand doesn't always know what the other is doing.
But stockbrokers are affronted. Once the richest man in China, Alibaba's founder Jack Ma has had to pass the mantle. Now he's only the third richest man in China. The share price has fallen ten percent, though turnover is $4.2 billion, having risen an impressive 40 percent in the first quarter compared to last year. But profits were down 28 percent to a disappointing $964 million. Justifiably, stockbrokers had expected more. Their disappointment is understandable.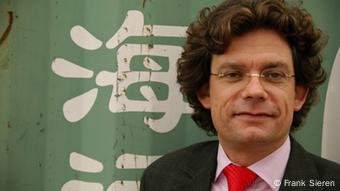 Frank Sieren
While Ma could intervene in the political action, stockbrokers have no choice but to hold tight and hope for the best. Ma has no other option than sticking to objectives and hoping to reach them as soon as possible. In ten years Alibaba aims to be the most important trading platform in the world with a turnover of $470 billion. Its current level is $13 billion.
Ma is attempting to break down the resistance of traders with an avalanche of good news. The online giant has just invested $590 million in the Chinese smartphone manufacturer Meizu. A deal which means Alibaba's operating system will be pre-installed on telephones that are sold worldwide. In China the company is going to test drones - just as Amazon has done in the US - which will be capable of delivering goods by air in coming years.
The company is also finally making good on its long declared intention to internationalize its business. In the US it is teaming up with American credit platform Lending Club to give US firms the chance to borrow money for cut-price spending sprees in China. It remains to be seen if Alibaba's new online bank will shake up the traditional banking sector outside of the homeland. Alibaba also announced success in India last week: At the end of the week it secured 25 percent of online payment service One97. A clear sign that Alibaba, after shaking things up in the country with the world's largest population, is moving on to world's second most populous country.
And as shares have slipped significantly it's quite likely there'll be more movement and this time in an upwards direction. Clever traders will be earning for the second time.
One of Germany's leading experts on China, Frank Sieren has lived in Beijing for 20 years.