Belgrade's integration into Europe is intimately linked with its cooperation with The Hague-based International Criminal Tribunal for the Former Yugoslavia (ICTY), which indicted Mladic and his now-captured former boss Radovan Karadzic.
But Rasim Ljajic, the Serbian minister in charge of dealing with the ICTY, admitted his country was no closer to capturing Mladic than at any point during its hunt for the former Bosnian Serb general.
"We don't have any trace that leads to Mladic, unless a miracle happens," Ljajic said. "At this moment, there is nobody who can say 'Mladic is in Serbia,' or 'Mladic isn't in Serbia'."
EU keen to see Mladic captured
A bi-annual report by ICTY war crimes prosecutor Serge Brammertz, evaluating whether Serbia has been fully compliant with the tribunal in its hunt for war criminals, is due to be submitted to the UN Securitiy Council.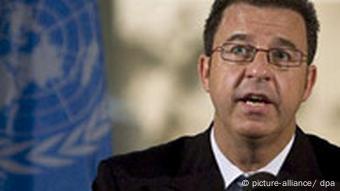 The contents of Brammertz's report may damage Serbia's EU bid
The report, based on two days of talks in Belgrade with senior political and security officials, is integral to Serbia's efforts to show Europe it is making progress in the hunt for Mladic.
Importantly, this forward motion is seen as a condition for the European Union to unblock a trade and aid agreement with Serbia and move the nation of around 7.5 million people closer to EU membership.
Netherlands sets high bar
But Ljajic said EU member the Netherlands has set an uphill course for Belgrade's membership aspirations.
Ljajic said Amsterdam had gone one step further than asking for mandatory Serbian cooperation with the ICTY and insists only the capture and transfer of Mladic would earn its approval.
"Even if the report by Serge Brammertz about Serbia's cooperation with The Hague tribunal is totally positive, the Netherlands will block the application of the agreement," said Ljajic.
"The international community is no longer interested in our efforts, our actions, our exercises, our activity.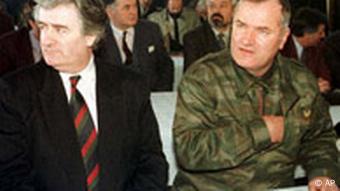 Karadzic and Mladic are held responsible for the Srebrenica massacre
"They are interested in concrete results, because we already showed our readiness and political will" by arresting Mladic's wartime boss, Radovan Karadzic, in the Serbian capital four months ago, he added.
No clue to Mladic whereabouts
Mladic was believed to be hiding inside Serbia until 2006, but has since dropped off investigators' radars.
The former Bosnian Serb general was indicted by the ICTY in 1995 for genocide and other crimes against humanity.
He personally commanded the operations in Srebrenica in July 1995, when 8,000 Muslim boys and men were executed.
He moved freely in Serbia after the Bosnian war ended in late 1995 and went underground after Slobodan Milosevic's regime fell in October 2000.