The massive remains of an ancient wall in the city of Cologne were first unearthed a year ago during construction work for a new Protestant church community center.
While it was clear from the start that the wall was of Roman origin, it was initially believed to be the ruins of a public assembly room. But what stumped experts were "unusual, niche-like divisions" in the wall, says Cologne historic preservation official Marcus Trier.
After comparing the structure with other ancient buildings, including the Roman city of Ephesus in present-day Turkey that had a monumental library, it turned out that the remains in Cologne belonged to a library built in the 2nd century in the then-Roman city.
The original building was probably two stories tall, with a size of around 20 by 9 meters — an extension was later added. Scholars and researchers would have enjoyed a lot of choice, Trier says, with "certainly several thousand scrolls to borrow."
The remains of the ancient library are to be integrated into the new church building, with part of the wall being made accessible to visitors. Other parts of the excavation will be preserved to give access to future generations of archaeologists.
Read more: Nazi-looted books found in German libraries
The western German city on the Rhine River is known worldwide for its magnificent Gothic cathedral; however Cologne is also rich in Roman history.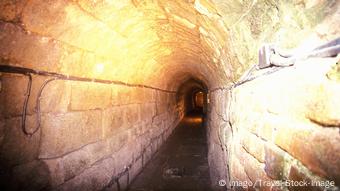 A walk through a part of the old Roman sewer system is an unusual experience
A Roman general established an urban settlement called Ara Ubiorum in the Cologne area in 38 BC. The military outpost flourished and was given colony status by Emperor Claudius several decades later.
Claudius renamed it Colonia Claudia Ara Agrippinensium, or CCAA for short, after his wife Agrippina the Younger who was born there.
From walls, city gates and aqueducts above ground, to delicate mosaics and historic sewer canals below ground, a newly found library is set to become a significant part of Cologne's, and Germany's, ancient Roman heritage.