The Polish newspaper "Gazeta Wyborcza" reported that four senior managers at Poland's public broadcaster TVP had announced their resignations. The news website wirtualnemedia.pl added that the resignations came from the heads of the channels TVP1, TVP2, TVP Kultura and the human resource department of the TVP group. The director-general at TVP reportedly accepted the notices.
The daily "Gazeta Wyborcza" explained that the managers in question may likely have intended to pre-empt their anticipated dismissals from the public broadcaster after a controversial new law passed through both chambers of the Polish parliament, which would allow the ruling party to choose their own heads for the public broadcaster.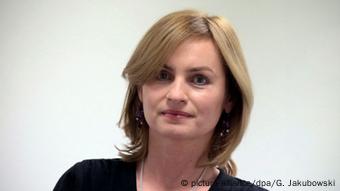 Katarzyna Janowska shared the news of her resignation on Facebook, adding an image with the caption "fear not"
The new media law would imply that all current senior management at public broadcasters across Poland - including the boards of directors and their members - would lose their positions, with the country's treasury being left in charge of choosing their successors.
Critics say the move would see Poland's public TV and radio stations being reduced to becoming mouthpieces for the government, affecting a network of broadcasters across the country.
Resignations include TV heavyweight Tomazs Lis
Among those resigning were the head of TVP Kultura Katarzyna Janowska and Tomazs Lis, one of Poland's most recognized journalists.
"No one can force Poland to shut its mouth. No one can force me to shut my mouth," he said, announcing that he would be continuing his career elsewhere - presumably at a private station.
A changing media landscape - by official mandate
Poland is about to adopt new legislation, which would effectively hand editorial and financial control of the country's public broadcasters over to the ruling "Law and Justice" party (PiS).
After passing through both chambers of parliament, the legal draft now only requires President Andrzej Duda's signature to be enacted into law. PiS leader Jaroslaw Kaczynski had announced before that this would be the first of a series of media reforms intended to shape the landscape of Poland's public TV and radio stations in accordance to the conservative worldview represented by PiS.
Human rights groups and journalists' associations have come out in protest against the new regulation. These include the European Broadcasting Union (EBU) and the Reporters Without Borders (RSF).
ss/rc (dpa, AFP)