Catalan leaders said on Friday that they would push ahead with plans for a November 9 referendum, as the government again vowed to stop any vote by legal means.
"We have agreed to maintain the decree calling the vote so that citizens can exercise their right to vote on November 9," Catalan regional government spokesman Francesc Homs told reporters in Barcelona.
Moments earlier, Deputy Prime Minister Soraya Saenz de Santamaria told a news conference in Madrid that the national government would ask the Spanish Constitutional Court to stop any potential independence referendum. The ruling Popular Party (PP) called the proposed vote an "illegal decree" in one Twitter post, while its Catalan head Alicia Sanchez Camacho appeared at a rally against the referendum on Friday.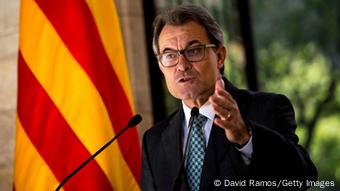 Catalan leader Artur Mas is considered a moderate nationalist, but many in his party hold more firm stances
"They cannot rob us of our right to be Catalan, Spanish and European at the same time," Sanchez Camacho told supporters.
'Illegal decree'
The Constitutional Court in Madrid on Monday ruled that the ballot would not be permissible under the Spanish constitution from 1979, on the basis that major questions should be put to all Spanish citizens at referendum, and that only the national government can call such a vote. That ruling prompted major protests (pictured at top of article) in Barcelona.
The Catalan government responded by formally suspending the official independence campaign, so as to launch an appeal at the Constitutional Court. However, Artur Mas' government in Barcelona announced on Friday morning that it had appointed a seven-person supervisory body to oversee the ballot, prompting the fresh vow to stop the vote from Madrid.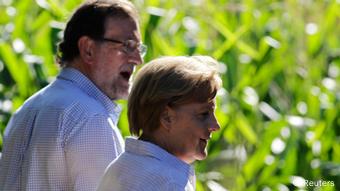 Prime Minister Mariano Rajoy has pledged to stop the vote
Catalonia, which has long sought secession, formally adopted status as a "nation" in a 2006 charter, but the Constitutional Court overruled that claim. This helped fuel pro-independence feeling in Spain's most populous and wealthy region, as did the close referendum in Scotland last month.
Businesses wary
With a population of 7.5 million people, a distinctive culture and its own language, Catalonia generates around one-fifth of Spain's total annual economic output. A sense of being "short-changed" by the economic policies of the government in Madrid has long helped fuel pro-independence sentiment. Barcelona is home to many of Spain's biggest companies.
"Obviously [the situation] is very worrying," said Josep Lluis Bonet, chairman of sparkling wine maker Freixenet. "What is desirable is for there to be a dialogue."
Many regional business leaders have kept quiet on the independence issue, perhaps fearful of a customer backlash on a divisive issue, but Bonet has openly advocated remaining part of Spain.
"Things are just fine how they are and we hope we're lucky enough for it to stay that way," he told reporters ahead of an Ibero-American conference in Madrid.
Antonio Brufau, the chairman of the oil company Repsol, which is based in Madrid but whose largest shareholder is Barcelona-based bank Caixabank, also appeared to support continued unity.
"We need to start reflecting, so that what is done is for the good of everyone. There are more things that unite us than keep us apart. We should look for the things that bring us together," Brufau said.
Around 55 percent of Scottish voters rejected a split from the United Kingdom on September 18. Shortly before the vote, however, when polls suggested an even closer race, the main UK parties promised the Scottish parliament increased autonomy on key issues including taxation policy.
msh/glb (AFP, Reuters)