29 December 2013, 11am:
Michael Schumacher had been skiing in the French resort of Méribel. He was going downhill some 4.5 meters (14.7 feet) outside the marcated piste when his skis hit a rock, he fell and hit his head on a second rock. Minutes after the accident, mountain rescuers administered first aid to Schumacher. He was reportedly conscious, but confused. His helmet broke during the accident. Schumacher was taken from Méribel to Moutiers hospital by rescue helicopter. His injury was severe, so he was moved to the Centre Hospitalier Universitaire (CHU) Grenoble, where he underwent surgery straight away. He had brain trauma and was placed in a coma. Later that evening, the clinic confirmed media reports and announced that Schumacher was in a critical condition.
30 December 2013: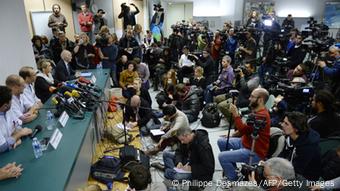 Doctors' press conference in Grenoble
Schumacher's condition was "exceptionally serious." His brain was severely injured. "We are concerned about his condition," a doctor stressed. The clinic refused to give predictions regarding his chances of survival. In Berlin, Chancellor Angela Merkel expressed her concern. "Like millions of Germans, the chancellor and the members of the German government were extremely taken aback when they learnt about Michael Schumacher's severe skiing accident," said government spokesman Steffen Seibert. Later that evening, Schumacher underwent a second surgery, where doctors removed a hematoma in the left part of his brain. The surgery took almost two hours. There were no complications.
1 January 2014:
Schumacher's manager Sabine Kehm gave a press conference. Schumacher's condition was stable during New Year's Eve and the next morning. But it remained critical. And his life was still in danger.
3 January 2014: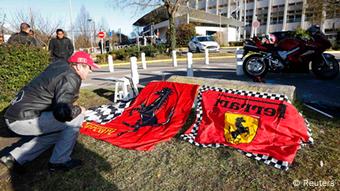 Ferrari fans outside the clinic in Grenoble
Schumacher's 45th birthday. More than a hundred Ferrari fans flocked to Grenoble to pay homage to the former driver. "We are overwhelmed!" was how Schumacher's family reacted to the public show of support.
7 January 2014:
Schumacher's wife Corinna asked the media to leave doctors and family in peace and to leave the hospital.
8 January 2014:
Investigators gave a press conference in Albertville, outlining that Schumacher was not skiing too fast when the accident happened. But investigations were still ongoing. Experts were still analyzing recordings from Schumacher's helmet camera.
30 January 2014:
Schumacher's manager Sabine Kehm confirmed: "Michael's anaesthetic have now been reduced to place him in a wake-up process, which can take a long time."
17 February 2014:
After investigations closed into the accident, state prosecution announced there were no indications of cases of third party fault, and criminal conduct could be ruled out.
12 March 2014:
Schumacher's family issued a statement: "We are and will remain confident that Michael will make it through and that he will wake up," adding that the family were drawing hope from frequent small signs.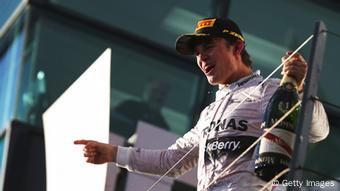 Nico Rosberg won in Melbourne
16 March 2014:
Mercedes dedicated Nico Rosberg's victory in the first Formula One race of the season in Australia to their former driver, Schumacher.
4 April 2014:
"Michael is making progress. He is expressing moments of consciousness and of awakening," said Kehm in a written statement.
16 June 2014:
His manager announced: "Michael has left the CHU Grenoble to continue his long phase of rehabilitation. He is no longer in a coma." There were no further statements regarding his condition. Switzerland's Lausanne hospital spokesperson Darcy Christen confirmed Schumacher had been admitted to the hospital. The hospital declined to say what unit he was being treated in.
23 June 2014:
Schumacher's manager Sabine Kehm confirms that his medical files were stolen and have been offered to various newspapers for sale.
5 August 2014:
A man suspected of involvement in the theft of Schumacher's medical files is found hanged in his police cell. Zurich police had arrested the suspect the day before.
9 September 2014:
Schumacher leaves hospital in Lausanne, to continue recovering and rehabilitation at home. "He still has a long and difficult road ahead," says his manager in a written statement.