In the eastern German state of Saxony, politicians seem to be having an especially hard time trying to get long-time locals on board with refugee policies that see hundreds of people arriving from Syria or Iraq every week.
While, at the national level, Angela Merkel may be determined that Germany "can do this," Saxony has seen the rise of the anti-Muslim Pegida ("Patriotic Europeans Against the Islamization of the West") group and witnessed ugly incidents like the one in the village of Clausnitz, where in February an angry mob threatened newly-arriving refugees.
Now, the state leadership is criticizing the police. In an interview with the weekly "Die Zeit," the head of Saxony's Social Democrats (SPD) and State Deputy Premier Martin Dulig said that state police not only had a quantitative, but also a qualitative, problem. Not only were there not enough policemen, the politician stated, but the ones working had "a lot to learn about intercultural competence."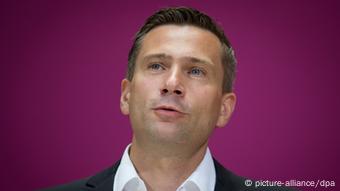 Dulig: some of our police officers could be too friendly with anti-immigrant protesters
He asked whether sympathy for Pegida and the growingly rightwing AfD party wasn't greater among police than in Saxony's population.
The Christian Democrats, who lead Saxony's coalition government with the SPD, attacked Dulig for his claims on Thursday. Frank Kupfer, head of Saxony's CDU parliamentary group, wondered that Dulig "didn't have anything better to do than worry about the Saxon police."
Partial officers a problem
Dulig did say that the officers in his state deserve respect for the work they do and that the refugee crisis has brought along a growing workload that is hard for them to handle. Still, the deputy premier and other SPD politicians don't like what they see.
"Some police officers have friendly handshakes with Pegida protesters," Albrecht Pallas, domestic policy expert in Saxony's SPD, told DW. "Citizens and police from other states who are also at the protests are astonished by that and have been sending us worried e-mails about this kind of behavior."
Pallas continued to say that it was normal that the people working in the police force would reflect the attitudes found in the general population - so of course there would also be some officers partial to Pegida. The problem, however, comes when they show their support while on duty.
"They make it look like their political leaning is connected to the [police officer] job," Pallas said. "And that is a fatal signal we have to counteract."
Coalition partner strongly disagrees with criticism
No one at Saxony's police was available to comment for this article, but State Interior Minister Markus Ulbig, who's also responsible for the police, sent out a statement on the issue. In it, Ulbig said that he was disappointed in Martin Dulig as a political colleague and coalition partner, but also on a human level for criticizing the police this publicly.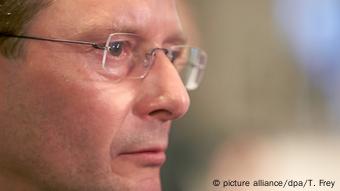 Ulbig: disappointed in Dulig "as a human being"
"Our police officers have been doing excellent work under extremely difficult conditions for months now," Ulbig is quoted as saying in the statement.
The Saxon CDU's domestic policy spokesman Christian Hartmann also finds the claims of Saxony's deputy premier to be inappropriate. He says that the coalition will need to talk about Dulig's statements and that the CDU in the government is openly dissociating itself from the claims.
Clausnitz - business as usual or an operation gone wrong?
One of the cases Dulig criticized in particular was the way police acted in Clausnitz. Up to 100 jeering locals tried to prevent 20 refugees from moving into a shelter. Police were sent to the scene to cope with the hostile atmosphere - and later faced harsh criticism: the officers ended up dragging some of the scared refugees forcefully from the bus they had arrived in and into the shelter. On top of that, the local police president caused outrage when he later said that some of the refugees on the bus would face investigation for allegedly inciting violence.
In his contentious interview, Dulig demanded consequences, at least for the police president's actions. Hartmann, however, sees nothing wrong with how police acted that night.
"In most of our police operations, including the one in Clausnitz, I see hardly any deficits," the CDU spokesman said.
Residents of Clausnitz showed their support for refugees with an anti-racism rally
It's fair to say that Saxony's government coalition has hit a rocky patch with Dulig's open police criticism. But there is one thing that both sides agree on: the eastern state's officers need a better political education.
Pallas and Hartmann both agreed that more money needs to be invested in intercultural training and other classes. After all, with so many refugees entering the states, the situation and the police officers' tasks have changed drastically from what they were a year or two ago. That's why all police employees should attend seminars where they have the chance to learn and talk about current political developments, Pallas said.