In an interview with German news agency DPA, Saudi Arabia's Foreign Minister Adel al Jubair described as "strange" the decision taken by the German coalition partners in their outline agreement to issue no more permits for arms shipments to countries involved in the war in Yemen.
"We do not need your armaments. We will find them somewhere else," the minister said.
Read more: Saudi Arabia and Iran need fresh security architecture
Saudi Arabia has been leading the alliance of nine states against Iranian-backed Houthi rebel fighters in Yemen since 2015. Thousands of people have died and some 3 million Yemenis have been displaced, according to the UN.
The German coalition agreement still has to be approved by members of the Social Democratic Party (SPD).
Saudi Arabia has been one of Germany's best customers for arms exports. However, al Jubair said: "We will not put ourselves in a position where we become a plaything," in the country's domestic politics. "If Germany has a problem in delivering weapons to Saudi Arabia, we do not want to put pressure on Germany," he said.
Relations between the two countries have come under some stress since German Foreign Minister Sigmar Gabriel accused the kingdom of "adventurism" in Middle East conflicts.
Read more: Top UN mediator for Yemen steps down
War in Yemen 'legitimate'
In 2017, Saudi Arabia was sixth on Germany's list of export authorizations with weapons worth €255 million ($314 million). Approved exports include patrol boats being produced at the Lürssen shipyard in north-east Germany.
"The war in Yemen is legitimate," al Jubair continued. He said Germany was supplying arms to countries fighting against "Islamic State" groups in Syria and Iraq and against the Taliban in Afghanistan.
In taking their arms-export decisions, the German authorities were making a distinction between "legitimate wars," al Jubair said. "That seems strange to me and does not contribute to the credibility of the German government."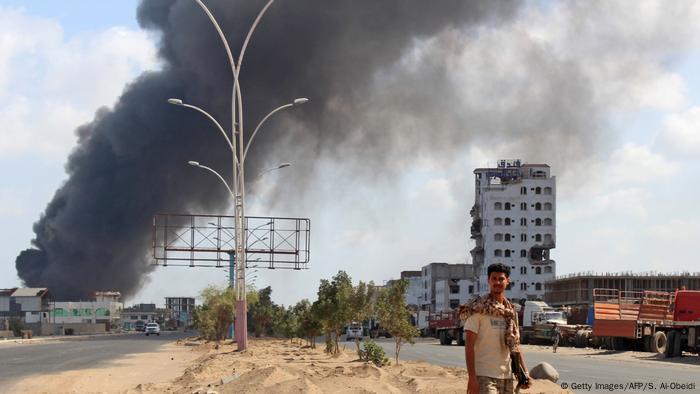 Smoke rises in Aden, Yemen in January
UN resolution on Yemen
Al Jubair blamed Iran for backing Houthi militia, who he claimed have caused a famine in Yemen, planted landmines and blocked food and water from reaching cities and rural areas under their control. He also claimed that the militia was receiving missiles from Iran.
Earlier this week, Saudi Arabia welcomed a draft United Nations resolution proposed by Britain, the United States and France condemning Iran for failing to stop its ballistic missiles from falling into the hands of the Houthi fighters. The Security Council is due to vote on Monday on the resolution which would renew sanctions on Yemen.
Saudi Arabia has pledged €8.9 million to tackle the cholera epidemic in Yemen affecting more than a million people. It is the worst outbreak of the disease in recent history, due to health and sanitation services having collapsed in the face of the military intervention in the country.
However, a number of aid groups have expressed reluctance to accept funds from one of the Yemen war's main combatants in case they themselves are then targeted for the association.
From April 2017 to February 2018, more than 1,060,000 suspected cases of cholera and 2,250 deaths have been reported in Yemen, according to the World Health Organization.
jm/ng (dpa, AFP)
Each evening at 1830 UTC, DW's editors send out a selection of the day's hard news and quality feature journalism. You can sign up to receive it directly here.