The creation of the new mega-ministry is designed to cut through a tangled bureaucracy and make a major economic reform program, known as Vision 2030, easier to implement.
On Sunday, the newly appointed minister, Khalid al-Falih, pledged to continue diversifying the country's sources of energy to reduce it's reliance on revenues from crude oil.
"The ministry will be inspired by the 2030 Vision for boosting supplies of energy, diversifying its sources and setting up new influential industries in order to add to the value of the national economy," he said in a statement.
The new Energy, Industry and Mineral Resources Ministry was announced on Saturday as part of a major reshuffle of ministers by Saudi Arabia's King Salman. The department will handle oil and gas extraction, power generation and distribution, mining and industrial development.
The change follows similar strategic changes by the oil-producing Gulf neighbors Qatar and the United Arab Emirates as they seek to diversify their economies beyond oil.
Khalid al-Falih, already chairman of state oil company Saudi Aramco, was also appointed energy minister on Saturday, replacing veteran oil minister Ali al-Nuaimi.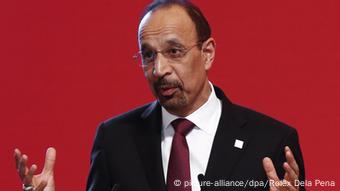 Falih is in charge of more than half of economic output
Diversify away from oil
Falih has the authority to oversee plans for nuclear and renewable energy production, which were put on hold when other parts of the Saudi bureaucracy objected.
Unveiled two weeks ago, the Vision 2030 plan involves selling up to 5 per cent of Aramco, the world's largest oil production company, via an initial public offering.
A dramatic fall in global oil prices since 2014 has put pressure on producer finances and prompted Gulf countries, including Saudi Arabia, to reconsider lavish state subsidy programs.
mm/jm (AFP, dpa)