Ivory Coast striker Salomon Kalou has admitted it would be "a disaster" if the team fails to make the World Cup.
The African nation, who have qualified for the last three tournaments, are one point behind Morocco in World Cup qualifying Group C. Morocco will get to Russia with a draw – but only a win will do for Ivory Coast in Abidjan.
"It would be a disaster for us not to qualify for the World Cup," Kalou told DW.
"If we don't make it, we will only have ourselves to blame. There's no point looking around and blaming external things, we must take responsibility and realize that we have one last chance to make it. We beat Morocco and we are through. It's as simple as that."
Ivory Coast have been a major force in African football for more than a decade and, on paper at least, should have the quality to finish top of their group. In addition to Kalou, their team includes Manchester United's Eric Bailly, Tottenham Hotspur's Serge Aurier and Basel's Serey Die, the captain.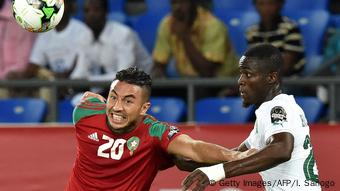 Eric Bailly (r) challenges Aziz Bouhaddouz, of Morocco, in a qualifier in January
But a poor showing at the Africa Cup of Nations earlier this year, when they failed to get out of their group, and inconsistent form under coach Marc Wilmots could see them fail to qualify for the first time since 2002. Kalou admits that the team has underperformed.
"We have some great players and, with our quality, getting through qualifying shouldn't be an issue," the Hertha Berlin player said. "We must look at ourselves and say 'do we want to play in a World Cup or not?' We are good enough, we know that, but we must prove it on the pitch. And we only have one chance left to do that."
That one chance is likely to be a tense affair. Their opponents are also to looking to make a little bit of history of their own as they attempt to become the first Morocco team to make a World Cup since 1998. There is a lot on the line for both nations in this winner-takes-all clash.
Lack of investment
No African nation has ever ventured beyond the quarterfinals of a World Cup. Poor facilities and a lack of investment have long hampered them in football – and Kalou says there's a need to improve the infrastructure.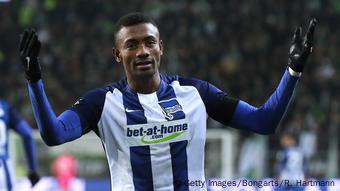 Salomon Kalou joined Hertha Berlin in 2014 after spells in England and France
"I don't worry about the next generation of young Ivory Coast players because there is great passion for the sport in our country. But we still need to improve the quality of our facilities," Kalou explains.
"The pitches are sometimes difficult in Africa. It doesn't matter to us when we're playing, we just go out there and play because it's the same for everyone, but the level of African football will improve further when the facilities improve.
"The pitches and stadiums are still nowhere near the level we have in Europe, so that has to change if we're going to make real progress in the future. Taking care of pitches takes money, so if we invest in better pitches and facilities for the youth then maybe we'll see a difference."
Despite the poor facilities, Kalou feels African football is finally benefiting from more professional coaching and improved organization.
"Where we have made progress is in the level of coaching and training. This is much better now than maybe 10-15 years ago. That's a good example of how we can work together to make a difference.
"Organisation is key and having a professional mentality, and these things are better in the Ivory Coast and Africa as a whole than before."