The three Maghreb countries, Morocco, Tunisia and Algeria will be placed on Germany's list of "safe countries of origin." In practice, this means that people entering Germany from those countries basically have no right to asylum and cannot permanently reside in Germany on the basis of asylum claims.
The government is thereby responding to the increased number of asylum seekers from these countries. According to figures from Germany's Federal Office for Migration and Refugees (BAMF), nearly 2,300 Algerians and 3,000 Moroccans traveled to Germany in December 2015. That means altogether 5,300 people entered the country, which is a substantial increase over the full year 2014, when 4,000 people from the two countries arrived in Germany.
After the New Year's Eve attacks in Cologne; Algerians and Moroccans found themselves under the harsh spotlight of the public and police authorities. A great number of the alleged perpetrators came from the two North African countries.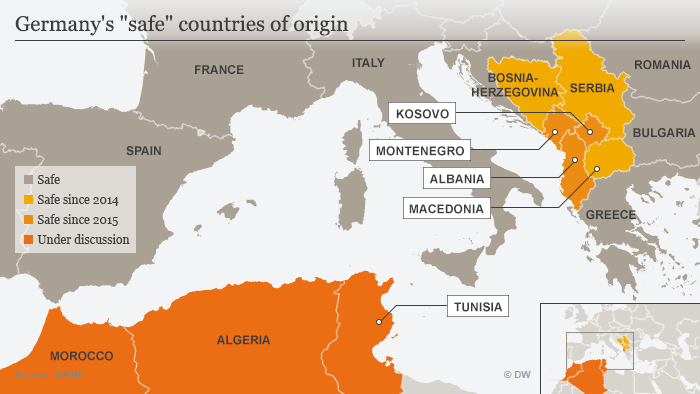 Unsatisfactory human rights conditions in Morocco
After the unrest that was triggered by the incidents on New Year's Eve, there has been a keen political interest in reducing the number of Algerian, Moroccan and Tunisian refugees as a whole - even the people who have already arrived in Germany will be sent back to their countries of origin.
The human rights situation in Algeria and Morocco is, however, not good. Between 2010 and 2014, the human rights organization Amnesty International recorded 173 cases of torture in Morocco. Eight people were legally prosecuted after they had reported torture they had suffered or made it public. Likewise, Amnesty speaks of "numerous" unfair court proceedings. Several refugees from sub-Saharan Africa, who made it to the Spanish enclaves of Melilla and Ceuta and were subsequently sent back to Moroccan authorities, were exposed to excessive violence.
In an interview with the German radio station "Deutschlandfunk", the political scientist Werner Ruf, who teaches at the German University of Kassel, said Germany should negotiate human rights with Morocco. "If you want to put pressure on a country, like Morocco, then you cannot court it on one hand; you cannot celebrate at Green Week and celebrate tourism, or ignore the fact that Western Sahara is still illegally occupied by Morocco. Then you have to find out where you can begin to put pressure on the country. That will, of course, have repercussions on our own economy."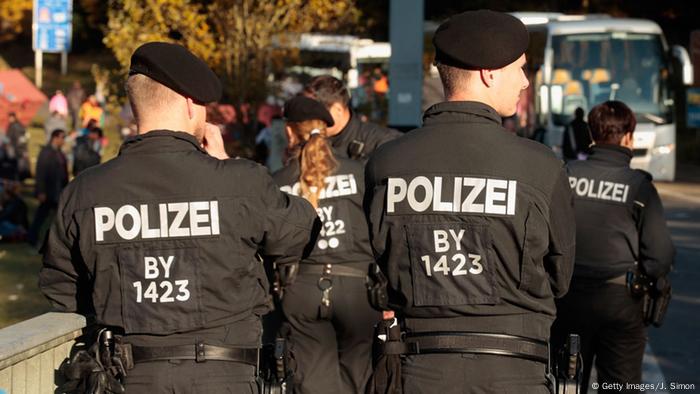 Germany has reintroduced border controls to stem the flow of refugees
Doubtful rule of law in Algeria
Algeria also has a poor human rights record. According to Ruf, the civil war in the 1990s that followed a coup nullifying an Islamist electoral victory is still not over. Amnesty International confirms this assertion: the Algerian intelligence service has arrested and tortured several Islamists. The events of the recent past in particular make it difficult to view Algeria as a constitutional state, said Werner Ruf.
"If you think about the Algerian civil war – and it is still not over – and the fact that between 10,000 to 30,000 people have disappeared, which means, as rule, they have been killed and never reappeared again - then you cannot, as the European Union and the Federal Republic of Germany, talk about human and then define safe countries of origin at will."
The decision to no longer recognize refugees from Algeria and Morocco as asylum seekers on the grounds that they come from safe countries of origin, is problematic, explained the Algerian activist Randah Uthman. Even more so, as she believes that people of Maghreb origin who are born in Europe become criminals and not refugees. She also asserts the claim that people are fleeing from Algeria and Morocco for humanitarian reasons. "I do not condemn anyone who leaves behind the poverty and hunger of their country to live a better life elsewhere. Is it a crime to seek a better life?"
Criticism of the Arab states is necessary
The France-based Tunisian activist Munif Kiylani, however, draws attention to another point. In his opinion, criticism only goes only one way. One side is focused on much too often. "Why do we only ask European countries to adhere to human rights? Why do we not ask the same of Arab countries, especially the Gulf States?"