Russian President Vladimir Putin confirmed he would take part in the 2018 presidential election during a Wednesday visit to a car factory in Nizhny Novgorod.
"I will put forward my candidacy for the post of president of the Russian Federation," the Kremlin chief said at a celebration attended by workers, while also thanking the workers for their support.
"With your active participation, with the participation of people like you, we will solve any, even the most difficult tasks ahead. Russia will only go forward, and this moment will never be stopped by anyone," he told the workers.
The St. Petersburg-born politician also said there was "no better place" to make his announcement.
Read more: Russian sociologist Lev Gudkov says Putin's Russia is a 'toxic state'
No vacation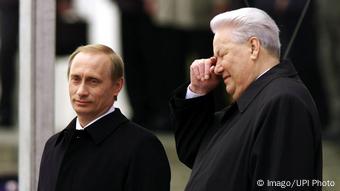 Putin with his mentor Yeltsin at Putin's first inauguration in 2000
Putin succeeded the late Russian president Boris Yeltsin at the end of 1999. He has effectively remained the most powerful man in Russia since, including his stint as prime minister between 2008 and 2012. Putin is also a heavy favorite for winning the 2018 vote.
Another election victory would make the 65-year-old Putin the longest serving Kremlin chief since Joseph Stalin.
According to Russian law, state officials and media employees are required to take a vacation during the electoral campaign. However, the head of Russia's electoral commission Nikolai Bulaev told the Interfax news agency that the president, as a state dignitary, is not subject to this limit.
"The law does not require the current president to take a vacation," he told the agency.
Putin has managed to maintain high approval ratings despite Russia's isolation from the West.
Gorbachev says Putin has backing in Russian society
The last Soviet leader Mikhail Gorbachev commented on Putin's announcement on Wednesday, focusing on Putin's prolonged popularity.
"If the people believe it is possible and necessary for the current president to put forward his candidacy once again, that means this should happen," he told Interfax.
"The situation in our country is still complicated, there are many important issues to solve," he added. "And this option of Vladimir Putin going for another term is fully permissible."
At the same time, the veteran leader said it was important to make sure that governments were replaceable. "However, nobody has negated this principle yet," Gorbachev concluded.
Russian opposition leader Alexey Navalny also commented on Putin's decision in a Russian-language tweet.
"He wants to be in power for 21 years. I would say it's a bit much. I suggest we refuse," he wrote.
Putin declares victory in Syria
Following his remarks on running for president, Putin commented on the Russian airstrikes against jihadist groups in Syria.
"Two hours ago, the defense minister reported that operations on both the east and the west bank of the Euphrates river have been completed with the complete destruction of terrorists," he said.
Read more: Putin travels to Iran for talks on Syria, US sanctions
The Russian president also said it was time to move on to political dialogue in the war-torn state, stressing that the peace process in Syria would include presidential and parliamentary elections.
dj/jm (Interfax, AP, Reuters)