Anyone familiar with Russian TV stations can only wonder about how this case is being handled. Normally, the news channels are full of sensationalist programs that show gory close-ups, and report on murders, thefts and rapes without any moral scruples whatsoever. Any incident involving criminal refugees and migrants in Europe - whether real or fake - is featured heavily in the media. In comparison, there's been barely any coverage of Monday's brutal murder of a small child in Moscow.
Child murdered, apartment set ablaze
A nanny from the Central Asian republic of Uzbekistan has admitted to killing a four-year-old girl. Investigators said the 38-year-old woman used a knife to sever the child's head; she then set fire to the apartment and left the scene. The woman, a Muslim, then went outside, dressed in black and wearing a headscarf. She was seen walking around the entrance to a subway station, calling out "Allahu Akbar" and holding up the child's severed head. Witnesses said she threatened to blow herself up. The police got to the scene quickly, but it took around 40 minutes before they were able to wrestle her to the ground. She was not carrying any explosives.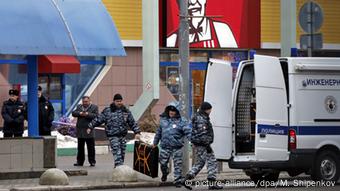 Police have been harshly criticized for their handling of the case
Later, investigators found that the woman was mentally ill and receiving treatment in her home country. According to Russian media, the woman said that Allah had ordered her to kill the child. On Wednesday, a Moscow court ordered that she be detained for two months. Investigators suspect that others may have been involved in the murder.
Kremlin protecting the media
The Moscow police unit specially trained for terrorist attacks has come under criticism for its handling of the case. But Russia's powerful TV channels, which are the main source of information for most Russians, are at the center of an even greater controversy over their behavior.
Dmitri Peskov, the press spokesman for the Russian president, denied any state intervention in the reporting of the incident. But he showed understanding for any broadcaster that chose not to report the murder initially. The images were "too horrific to show on television," he said. Leonid Levin, chairman of Russia's State Duma Committee on Information Policy, also stood by broadcasters that chose not to report the story.
Terrorism background?
Most of the critical voices can be found on the Internet. Ekho Moskvy's popular blogger and journalist Alexander Plyushchev said he was surprised by the silence on the TV channels. "I would have thought that this story was full of details to really ramp up the hysteria, along the lines of: Islamic State is at our doorstep, we should drop even more bombs on Syria," he said.
But it's possible that Moscow wants the exact opposite - namely to avoid any connections with Russia's military mission in Syria. A person dressed in black, brandishing a severed head and shouting "Allahu Akbar" immediately calls to mind the brutal murders committed by members of Islamic State.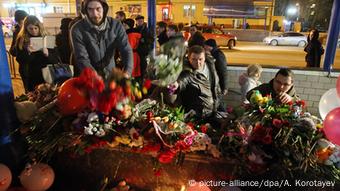 Moscovites paid their respects to the murdered girl
The Russian media behaved in a similarly reserved manner after the crash of a Russian plane in Egypt last fall. Only weeks after the incident did it emerge that it was an Islamist terror attack. In the case of the murdered child, there was no immediate evidence to suggest any terrorist background.
It was only on Wednesday afternoon that the first clues about a possible extremist connection emerged. According to reports from the news agency Interfax, investigators are looking for two men who knew the killer, and who "may have links to an international extremist group."
Fear of unrest
Some in Russia argue that the broadcasters' silence is justified, as otherwise there would be the risk of ethnic unrest or even pogroms against migrants. But according to this logic, Russian TV channels "deliberately provoked unrest in Germany" when they extensively reported the supposed rape of a Russian girl in Berlin by migrants, Plyushchev wrote.
There has long been a latent anti-migrant sentiment among Russian society, and it's been directed mainly against the millions of people from Central Asia who work as street cleaners, construction workers, and nannies in Russia. Around seven years ago, this sentiment culminated in mass brawls between migrants and Russian nationalists in Moscow. In the aftermath, the situation appeared to have stabilized.
In 2015, the Moscow-based human rights organization "Sowa" reported just nine murders with a xenophobic background in all of Russia; in 2010, that number was close to 40. Most of the victims were from Central Asia. At the moment, it seems that the Russian leadership is primarily concerned with preventing such unrest from igniting again.