Whether you're Latvian or Russian is simply not an issue at the central market in Riga. The flower seller Ineta speaks Latvian; her customer, Alla, replies in Russian.
"How do we get on?" Ineta tells DW."Normally! There's nothing special about it. Why shouldn't we get on with them? They were born and raised here."
Alla agrees with her. "Language isn't that important here at the market. The market has its own language," she tells DW. "I even enjoy speaking Latvian at the market. At least here I don't have the feeling that someone's trying to educate me."
Alla Berezovska is 50 years old. She came to Riga from Russia as a little girl. Alla fought for Latvian independence from the Soviet Union - yet she did not become a Latvian citizen.
"You know, in all the 20 years since independence, the insults have just accumulated - even though we actually supported them. But they said, 'You're nothing, you're foreign here," she says.
"Really we should start all over again from scratch."
Reprimanded by the UN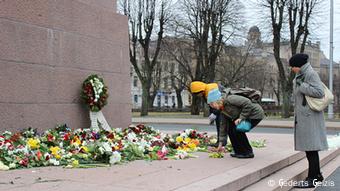 Ethnic Latvians and ethnic Russians fought alongside each other for independence from the Soviet Union
Alla Berezovska is one of roughly 300,000 so-called "non-citizens" in Latvia. She is not allowed to vote, nor to hold public office. She's also not allowed to work for the police or the fire brigade.
"There are now two societies living alongside each other in this country: the Latvian and the Russian," she says. "But it can't be right that the Latvians get to tell everyone what language our children are supposed to learn, which festival days are celebrated, and which aren't."
If she wanted to become a Latvian, Berezovska would have to pass a language test as well as a history test. She says she doesn't want to take such a citizenship test, on principle - it would be testing her loyalty to her country.
The United Nations has already sharply criticized Latvia, accusing the country of not doing enough to encourage integration. After all, every third person living in Latvia speaks Russian. Yet Latvian is the only official language. Now there are even plans to stop Russian language lessons in schools.
'Post-Soviet' thinking?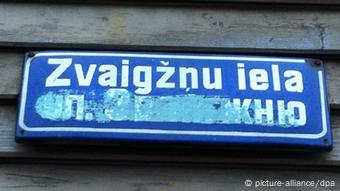 Latvian is the country's only official language
Ilmars Latkovskis heads the parliamentary commission overseeing naturalization rules. He says he can't understand the criticism from the UN nor the anger of the ethnic Russian minority.
"There are Russians who are very well integrated, and who are very loyal in their support for us," said the member of parliament for the National Alliance. "But there are also Russians who are still stuck in their post-Soviet way of thinking. They still think they're here as liberators or occupiers. That's how they feel, and that's how they raise their children,"
The majority of people in Latvia have similar views. Ineta, the flower seller on the market, also has no time for talk of discrimination.
"I can't understand why people feel discriminated against because of it," she told DW. "What does it really mean for these people? Okay, so they're not allowed to vote. But that's it."
'Non-citizens' rally
People who aren't allowed to vote and who are neither Latvians nor Russians refer to themselves as "Latvios." Many of them obtain a Russian passport nonetheless. The government in far-off Moscow is presumably delighted.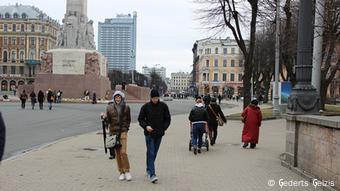 Ethnic Russians constitute a large minority in Latvia
Alexander Gaponenko, a spokesman for the Latvios' radical wing, has had two passports for many years. Typically the spokesman's speeches are accompanied by somber military marches. He speaks of an "ethnic hierarchy" in the country against which his minority must defend itself. The Russian nation must unite, he says.
Up till now, however, Gaponenko's inflammatory words haven't had much effect. At the central market in the capital, most people simply shake their heads, regardless of what language they speak. A demonstration planned for 25.04.2014 was banned. Courts declared it a "security risk".
Citizenship test instead of protest
There are also people like Nijonila Kuharthuk in Latvia. She, too, has lived in Riga for decades, but she was born in Ukraine.
Now, after 20 years as a non-citizen, she has decided to take the citizenship test after all. She wants to become a Latvian.
"What finally motivated me to do it was the sad events in my former homeland, Ukraine," she told DW. "What I don't want is for Putin to protect me. I don't want him to come one day to help the 300,000 non-citizens in Latvia."