Russian central bank chief Elvira Nabiullina unveiled the new green-tinged banknote during a press conference on Thursday, saying that the decision to depict images of Crimea on the tender "reflects the desire of the people of Russia to see these symbols on notes."
The Russian bank's move comes as a defiant response to Kyiv as well as to the latest round of sanctions imposed by the European Union and the United States on Russia over its annexation of the Ukrainian peninsula in 2014.
Read more: Russia committing 'grave human rights violations' in Crimea – UN
Economic sanctions imposed on Russia since the annexation, coupled with a crash in the price of oil, has seen the value of the ruble plummet in recent years.
The new note will be worth 200 rubles (around $3.50, €2.90) and will immediately go into circulation in Moscow, Crimea and the far east, before being released nationwide by the end of the year. Russia's central bank also unveiled a new 2,000-ruble bill that shows the new cosmodrome spaceport in the eastern city of Vostochny. Russia hopes the new dominations will speed up cash transactions and boost spending.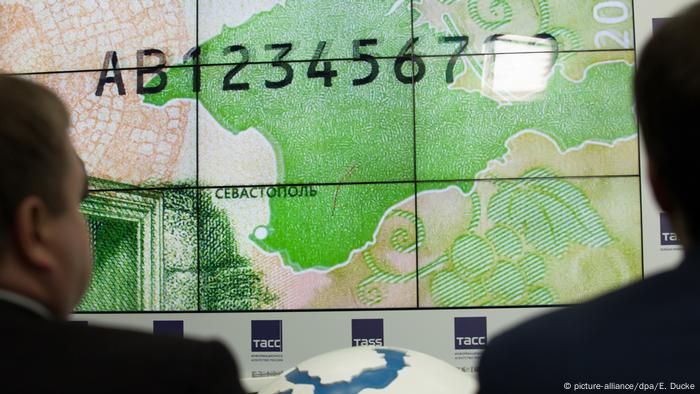 Russia hopes the new bill boost spending, as well as stoke national pride.
Citizens pick their top 'symbols of Russia'
The launch of the new bill was announced last year, and the images on the notes were chosen after thousands of proposals of Russian landmarks were sent in. Citizens could then choose their favorite so-called "symbol of Russia" in an online poll. The Crimean naval city of Sevastopol is a particularly sensitive choice, since it is where Russia's Black Sea fleet is based.
The last time the central bank issued new banknotes was back in 2006. However, the government did unveil a commemorative 100-ruble note in 2015 to mark what it dubbed the "the return" of Crimea.
The new notes aren't the first to stoke controversy over their depictions. In 2014, a Russian nationalist lawmaker said the 100-ruble bill depicting Moscow's Bolshoi theatre should be replaced because it showed a tiny nude Greek god in the design. The design of the note, he claimed, was pornographic and a bad influence on children. However, it still remains in circulation.
dm/sms (dpa, AFP)