Russia is willing to work with North Korea on a peaceful solution to tensions sparked by Pyongyang's recent nuclear and missile tests, the Russian Foreign Ministry said after meetings between the two sides in Moscow on Friday.
"The Russian side confirmed its readiness to combine efforts in the interests of finding ways to solve the problems in the region by peaceful, political and diplomatic means," it said.
Choe Son-hui, director-general of the North American department in the North Korean Foreign Ministry, had earlier discussed the situation with Russian ambassador-at-large Oleg Burmistrov and Russian Deputy Foreign Minister Igor Morgulov.
Suspension-for-suspension
Moscow said one of the solutions discussed in the meetings was "the Russian-Chinese roadmap for a Korean settlement."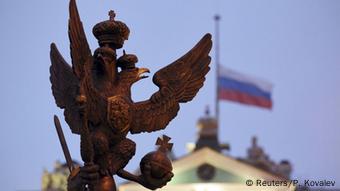 The Kremlin has repeatedly called for all sides to seek a "peaceful" solution
Russia and China have previously said they both support a "suspension-for-suspension" approach to reign in North Korea's missile and nuclear weapons program. The strategy calls for Pyongyang to stop its tests in exchange for an end to US and South Korean joint military exercises on the peninsula.
The US and South Korea most recently flew eight fighter jets and two bombers near North Korea in mid-September as a "routine" show of force.
Read more: North Korea nuclear crisis: Vladimir Putin warns against 'global catastrophe'
Russian leaders have been particularly alarmed in recent weeks after senior US officials did not rule out armed force against Pyongyang. A public war of words between US President Donald Trump and North Korean leader Kim Jong-Un has also caused considerable concern.
Trump threatened to "totally destroy" North Korea during a speech to the UN last week. North Korean leader Kim Jong Un threatened retaliation in his response, calling Trump "mentally deranged" and a "dotard."
Russia has nevertheless agreed to US-led restrictions against Pyongyang despite Washington's approach. On September 11, Moscow voted with the rest of the UN Security Council to pass the most far-reaching sanctions ever placed on North Korea.
amp/kms (AP, Reuters, AFP)