More than 25 years after the fall of the Berlin Wall (pictured), Russian lawmakers on Wednesday said they would discuss a proposal to condemn what they called West Germany's "annexation" of East Germany.
The speaker of the Russian parliament's lower house, Sergei Naryshkin, ordered lawmakers from its foreign affairs committee to consider the appeal arguing that the absorption of the post World War II communist state of East Germany - officially known as the German Democratic Republic (GDR) - into a reunified Germany in October 1990 was illegal.
"Unlike Crimea, a referendum was not conducted in the German Democratic Republic," said Nikolai Ivanov, who suggested the appeal.
The March 2014 in which almost 97 percent of voters chose to split from Ukraine in favor of Russia, was severely condemned by the West because it was held under the presence of Russian troops. At that time the European Union responded with economic sanctions against Russia.
"We understand that Western hypocrisy knows no limits," Ivanov told the news agency AFP, also criticizing German Chancellor Angela Merkel for her stance on the crisis in Ukraine, where pro-Russia separatists have been battling government troops for the past nine months.
Rewriting history?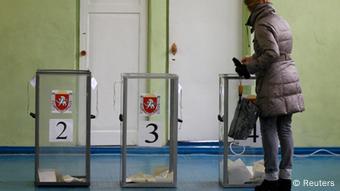 Crimea's controversial referendum was held last March
The reunification treaty officially granting full sovereignty to Germany was established as a result of negotiations between leaders of East and West Germany and foreign powers including the Soviet Union and United States. It came into effect on October 3, 1990.
The treaty followed the fall of the Berlin Wall, which was preceded by months of mass protests and continued attempts by citizens in the East to escape their confinement.
Former Soviet leader Mikhail Gorbachev, whose decision not to use force to quell the uprisings was widely praised in the West, dismissed the "annexation" contention as "nonsense" according to comments quoted by AFP from Russian news agency Interfax.
"What referendum could one talk about when 100,000-strong demonstrations were taking place in both countries – both in East and West Germany - with one slogan only: "We are one people!" Gorbachev said.
se/sms (AFP, dpa, AP)