Ambassadors from several European and Western nations were summoned to the Russian Foreign Ministry on Friday amid a diplomatic crisis triggered by the poisoning of ex-spy Sergei Skripal that has seen a number of countries expel Russian diplomats and a quid pro quo response from Moscow.
The German, French, Italian, British, Swedish, Belgian, Dutch, Australian, Canadian, Czech, Croatian, Latvian, Lithuanian, Polish, Slovakian and Ukrainian ambassadors were among the national envoys seen at the ministry building in the Russian capital.
The Foreign Ministry had said it would summon the envoys of Western states who had taken "unfriendly steps" toward Russia over the poisoning. "The envoys will be handed protest notes and told about the Russian side's retaliatory measures."
Some 59 diplomats from the 23 countries were being expelled and the ministry said it reserved the right to take action against a further four nations in what it called baseless demands for its own diplomats to leave.
The German Foreign Ministry said on Friday that four German diplomats would be leaving Russia. Foreign Minister Heiko Maas said, "The news from Moscow comes as no surprise."
In a statement, the German Foreign Ministry commented, "Our reaction in the Skripal case was necessary and appropriate as a political signal, out of solidarity with the United Kingdom and because Russia has refused to give any clarification of the facts."
However, Maas said communication with Moscow would continue to be sought: "Even in the current climate we remain ready for dialogue with Russia and we will work on both European security and constructive future relations between our countries."
Read more: Who are the allies of Vladimir Putin and Russia in Germany?
The British ambassador to Russia, Laurie Bristow, has been told his embassy must reduce the number of staff members to a level matching the number of Russian staff in the UK, the Ministry said. Bristow himself made no comment as he left the Ministry on Friday.
Britain's Foreign Office described the decision as "regrettable" but said that it had been anticipated. In a statement issued on Friday, the Foreign Office said there was no alternative to the conclusion that the Russian state had been responsible for the attempted "assassination of two people on British soil."
Italy was told two diplomats had a week to leave the country. Two Dutch diplomats are also being expelled. Thirteen Ukrainian, four Polish diplomats, and one Swedish envoy are being sent home as were a pair of Spanish diplomats and one each from Norway, Ireland and Croatia. Diplomats who represent the former Soviet republics of Lithuania, Latvia and Estonia were also told to go; three from Lithuania and one each from the other two republics will leave. Three Czech diplomats are also to go.
'Open to dialogue'
German Ambassador Rüdiger von Fritsch said after his meeting at the Ministry that Russia still had to answer questions about the attack on Skripal and his daughter, Yulia, in the southern English city of Salisbury in early March, but that Berlin was ready to talk with Russia.
"Germany's interest in having a good relationship with Russia remains. We remain open to dialogue," von Fritsch told reporters.
"In the face of the grave incident in Salisbury, it is up to the Russian government to do everything it can to provide clarity and transparency and to answer legitimate questions," he added.
Dmitry Peskov, a spokesman for Russian President Vladimir Putin, on Friday also voiced Russia's willingness to engage in talks despite its having been "forced" to retaliate after more than 150 Russian diplomats were expelled by two dozen countries, including many EU nations and the US, and NATO.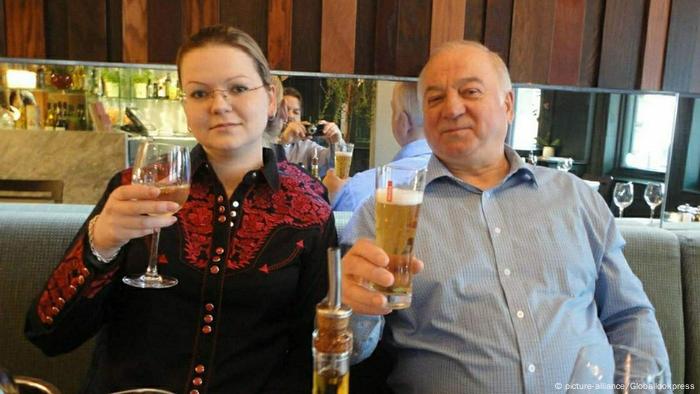 Yulia Skripal was visiting her father in England when the attack occurred
Bulgaria, which currently holds the EU presidency, said on Friday it would not expel Russian diplomats and was waiting for more proof about the attack. Prime Minister Boyko Borissov said communication channels should be kept open with Moscow.
Tit-for-tat expulsions
Moscow has said it would expel the same number of diplomats from each country that ordered Russian diplomats out. Germany expelled four, the United States 60 and Britain 23.
The expulsions came in solidarity with Britain, which accuses the Russian state of having perpetrated a chemical weapons attack on the Skripals. Russia denies the allegations.
Sergei Skripal remains in a critical but stable condition in hospital in Salisbury, while his daughter is reported to be much improved and able to communicate.
The poison used in the attack was of a type first manufactured in laboratories in the former Soviet Union.
Read more: Novichok nerve agents – Russia's dangerous 'new' poison
tj,jm/sms (Reuters, dpa)

Each evening at 1830 UTC, DW's editors send out a selection of the day's hard news and quality feature journalism. You can sign up to receive it directly here.