The State Election Commission said the conservative coalition led by Gruevski's VMRO-DPMNE (photo) won 38.06 percent of the vote, slightly ahead of the left-leaning coalition, headed by opposition leader Zoran Zaev's Social Democrats, which took 36.69 percent.
The main ethnic Albanian political force - the Democratic Union for Integration (DUI) - which has long been junior coalition partner in coalition with the VMRO-DPMNE, came third with 10 seats, giving VMRO-DPMNE a very fragile parliamentary majority.
The Macedonian State Election Commission said 67 percent of registered voters participated in Sunday's election, one of the highest turnouts in recent national elections in Macedonia.
About 1.8 million voters were eligible to select 120 politicians for parliament.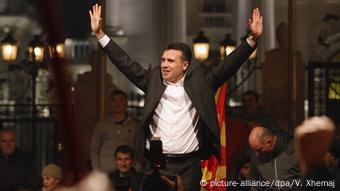 Social Democrat leader Zoran Zaev celebrates on Sunday
Observers said there had been some irregularities but no political party has yet complained about the electoral process or results. Election observers from the Organization for Security and Cooperation in Europe (OSCE) said in a preliminary report that the voting had gone smoothly overall.
"The election day was good," OSCE special coordinator Roberto Battelli told reporters in Skopje.
Parties will have 20 days to constitute the parliament, once the state election commission comes out with results.
Continued uncertainty
The elections came after Nikola Gruevski stepped down in January from his post as prime minister following an EU-brokered deal to stop the political crisis surrounding a corruption scandal. Zaev accused the government of wiretapping tens of thousands of citizens and released recordings of supposed wrongdoings. Gruevski and the VMRO-DPMNE party have denied any culpability in the affair.
About 8,000 domestic and 650 international observers monitored the election.
kbd/jbh/kl,jm (AFP, AP, dpa, Reuters)