Thomas Tuchel has quickly become a household name. The 41-year-old is stepping into the shoes of Jürgen Klopp, Dortmund's longest-serving and most-beloved coach.
But what do we know about Tuchel's methods, his ideas on the training field and the success that has earned him a glittering reputation in German football?
Like Klopp, Tuchel got his top-flight coaching start at Mainz but took the club to another level. The southwestern German side continued to push the boundaries for several seasons. Tuchel – and current General Manager Christian Heidel were crucial in Mainz's ascent at a time when traditional big German clubs such as Hamburg and Stuttgart have slipped towards the bottom.
Tuchel's appointment in August 2009 came around in unusual circumstances. Heidel decided to sack coach Jörn Andersen, who had guided the club back to the Bundesliga after a short spell in the second division. Tuchel had no first-team Bundesliga playing or coaching experience and had only been employed in the club's youth ranks for 12 months.
In an exclusive talk to an elite audience of sports experts and professors back in 2012, he explained his philosophy and how he prepared his squad for each Bundesliga game.
Tuchel revealed he felt it was the "ideal" time to take over Mainz as a less experienced coach. He decided to take the players on a training camp outside of Mainz to escape the media and supporter pressure. This gave him a prime opportunity to understand his players better.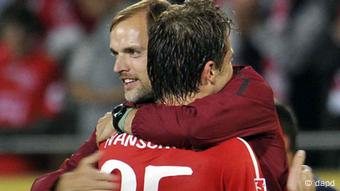 Tuchel formed a strong bond with his players at Mainz through understanding each individual
One problem Tuchel identified was the lack of team-ethic among the squad. Players would arrive at differing times for meals and lack the "respect" of waiting until others had finished. He sought to change this without appearing a control freak and ruining his new relationship with the squad.
"I hadn't even started on my main course yet, when half the team had already finished their meal and left," Tuchel explained. This was the main reason for the change in coach, according to the Mainz trainer. Gradually, these "manners" became a natural thing among the Mainz squad and this is something Tuchel stresses in his pre-meal talks.
Cutting-Edge Football
Although Bayern Munich and Borussia Dortmund have been identified with counter-pressing' in recent years, Tuchel has claim to breaking ground with the strategy in Mainz's first season back in the Bundesliga.
Tuchel's tactical flexibility has perhaps emerged most prominently against Bayern Munich. Mainz won three of nine games against the Bavarians when Tuchel has been in charge.
Mainz defeated Bayern 2-1 in Tuchel's first encounter with the record holding German champions using a 4-1-4-1 formation to counter Louis van Gaal's 4-3-3. Meanwhile, a 2-1 win over Bayern at the Allianz Arena came in 2010-11 as Tuchel's 'Bruchweg Boys' caused havoc in a quick-paced, counter-attacking setup. He also masterminded a 3-2 win over Bayern the following season with a 4-3-2-1 structure.
Then Bayern boss Heynckes said Tuchel was "destined" to train the record-winning German champions one day.
Tuchel's focus in practice is on "rhomb-training" with the pitch dimensions being cut to resemble a diamond, ruling out long passes down the touchlines. Mainz had tob get accustomed to training in different shapes on pitch sizes varying from rhomb to circle, or 18m wide x 75m length and 30m length x 70m wide.
Tuchel calls this a "systematic approach" with his preferred formation on a matchday mirroring – and countering - how the opposition line up.
Accepting mistakes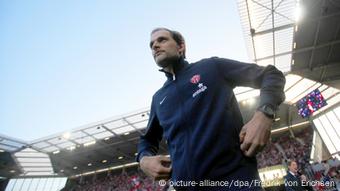 Tuchel takes charge of Dortmund from July 2015
"I've missed more than 9000 shots in my career," basketball legend Michael Jordan once said. "I've lost almost 300 games. 26 times, I've been trusted to take the game winning shot and missed. I've failed over and over and over again in my life. And that is why I succeed."
Tuchel referred to Jordan's inspiring words after Mainz were embarrassingly dumped out of the UEFA Europa League to Romanian minnows Gaz Metan. Mainz had finished fifth the season before and had been dealing with changing expectations from supporters and the media.
Deflated and shattered of morale following three earlier Bundesliga games without a victory, Tuchel stayed awake the whole night to think of something unique to re-motivate his players. He used the Jordan quote instead of video analysis of the European defeat, stressing how the NBA great was "the most successful team player" and that failure was part of professional sports.
Less than 24 hours later, Mainz broke their early season duck with a 2-0 win over Bayer Leverkusen.
Tuchel guided Mainz to another Europa League finish last season and stepped down surprisingly before the final day of the season. Despite his departure, the Carnival Club refused to reloease him fron his contract, which runs until the end of this season.
The task awaiting Tuchel is an immense one: to halt the decline of a side that reached the 2013 Champions League final and won back-to-back championships. Tuchel's appointment heralds a new dawn for this club, and his past record suggests he may indeed be the right man for the job.