Romania's governing Social Democratic Party (PSD) saw its no-confidence vote against its own prime minster, Sorin Grindeanu, pass as expected on Wednesday.
A total 241 lawmakers from the PSD and its junior coalition partners ALDE approved the motion to oust Grindeanu from office, more than the 233 votes required. Only seven lawmakers voted against, while all opposition parties abstained.
"The government is dismissed," Senate speaker Calin Tariceanu told parliament after the result.
"Passing this motion means the PSD and ALDE are continuing to govern in the way Romanians elected in December," PSD leader Liviu Dragnea said.
After seeing its motion passed, the PSD will be allowed to nominate a replacement. However, the nominee will be required to secure a confidence from the parliament, as well as conservative President Klaus Iohannis, upon presenting his cabinet and policy plans.
A victory turned sour
Grindeanu was voted into office on the back of a thumping election victory just six months ago.
However, the PSD moved to expel him following a performance review last week that deemed his cabinet had failed to fulfill an ambitious policy and economic reform program.
Grindeanu refused to resign and rejected the assessment of his performance. Accusations by the prime minister that PSD boss Liviu Dragnea was seeking to "concentrate all the power in his hands" deepened internal rifts within the party and sparking a political crisis.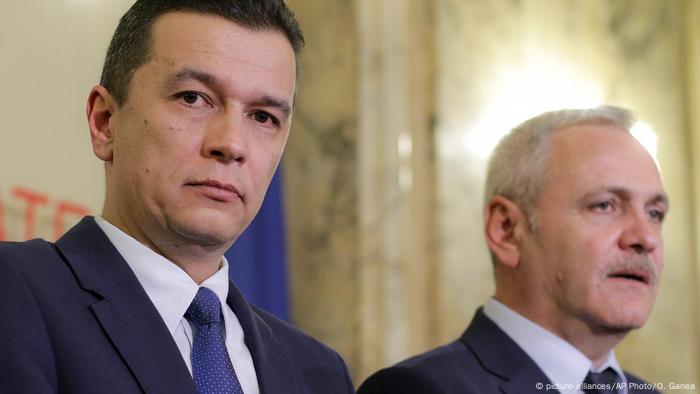 Once close allies, PSD boss Liviu Dragnea (right) was instrumental in getting Prime Minister Sorin Grindeanu ousted from office.
Graft reforms again under the spotlight
However, many independent observers tend to agree with that assessment, saying that the PSD wanted to assign a premier willing to do more to protect senior officials facing charges of corruption, particularly Dragnea.
Shortly after taking power earlier this year, Grindeanu's government tried to pass a controversial bill that would have decriminalized several corruption offenses.
However, the bill was dismissed after demonstrators took to the streets in what were the largest mass protests seen since the fall of the Communist regime in 1989.
However, the failed corruption legislation would have allowed Dragnea to run for prime minister despite being on trial for alleged abuse of power and voter fraud. The PSD leader has denied the charges.
"Liviu Dragnea only wants one thing: amendments to the anti-corruption laws," the former PSD member Alin Teodorescu told the Agence France-Presse last week.
Romania is regarded as the European Union's most corrupt state, while Brussels has been specially monitoring its justice since it joined the bloc in 2007.
Despite that, it remains the EU's fastest growing economy, having expanded by 5.7 percent in the first quarter of this year.
dm/sms (AP, AFP, Reuters)