The measures, adopted late on Tuesday, will decriminalize cases of official misconduct in which financial damage is valued at less than 200,000 lei (44,000 euros).
Romania's leftist government, which swept into power in December, says the move was needed to get the Eastern European country's criminal code in line with recent constitutional court rulings.
Critics claim it is a bid by Prime Minister Sorin Grindeanu (main picture, left) to protect the ruling Social Democratic Party (PSD) chairman Liviu Dragnea (pictured right), who is facing legal proceedings for about half that amount.
The new measures, which take effect immediately, include pardons for convicts sentenced to less than five years and reduced sentences for prisoners over 60. They are likely to result in the release of at least 2,500 convicts, ostensibly to ease prison overcrowding.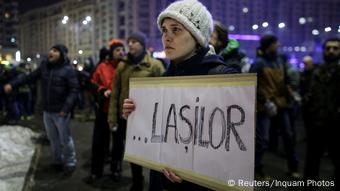 Romanians have been protesting the ruling party's decriminalization proposal for weeks
Protesters took to the streets across the country soon after the government announced its new measures late Tuesday. Tens of thousands of people protested against the proposed ordinance in the past few weeks, saying it would be a blow to a years-long anti-graft drive in Romania.
On Tuesday night, thousands of demonstrators in Bucharest chanted anti-government slogans outside the government offices, with some calling the PSD "the red plague." Some chanted "You did it at night, like thieves," referring to the government's passing of the law in the late hours.
A 'blow' to anti-corruption efforts
"This measure will render the anti-corruption fight irrelevant," Laura Codruta Kovesi, Romania's anti-corruption chief, told the AP news agency, adding that the National Anti-corruption Directorate had prosecuted 1,170 cases of abuse in office in the past three years.
The anti-corruption agency said the decriminalization measures would "encourage the abusive behavior of public workers, dishonesty, (and) immorality."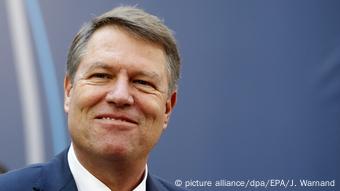 'A day of mourning for the rule of law,' says President Iohannis
President Klaus Iohanis, who has limited powers in the government, is a strong critic of the ruling party's ordinance. He called the adoption of the law "a day of mourning for the rule of law ... which has received a grave blow from the enemies of justice."
"From today onward, my mission is to re-establish the rule of law. I will do everything I can to make Romania a country free of corruption, until the last day of my mandate," the president said Tuesday.
Romania is one of the most corrupt countries in the European Union, with graft in government offices and state institutions rife.
shs/jr (Reuters, AP)