Romanian Prime Minister Sorin Grindeanu has refused to step down even after his left-wing Social Democratic Party (PSD) voted unanimously on Wednesday to withdraw support for him and his cabinet.
PSD officials said Grindeanu, who only came into office in January, had failed to respect the party's governing program.
The party held a performance review on Wednesday night and found that Grindeanu's government had failed to fulfill an ambitious governing and economic reform program.
The PSD came to power six months ago on the back of a thumping poll victory.
PSD leader Liviu Dragnea, who holds tight control over the party, told reporters that all cabinet ministers had filed their resignations and that the party was prepared to nominate a new premier.
"A prime minister is only legitimate as long as he has the support of the parties that voted for him," Dragnea said. "We have withdrawn that support."
Grindeanu has rebuked calls for his resignation, saying the review showed that his cabinet had failed to introduce measures that had deadlines for 2018 or later.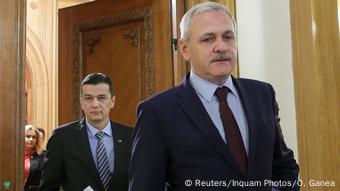 The move to oust Grindeanu (left) is widely believed to be the result of a falling-out between the premier and the PSD leader, Liviu Dragnea (right)
"I have tried to understand why ... there is such fury in getting rid of your own government after not even six months," Grindeanu told reporters. "I don't see another answer other than ... one man's desire of holding all the power."
The prime minister then hinted that he would only resign after Romania's center-right president, Klaus Iohannis, held parliamentary consultations and appointed a successor from the PSD.
Otherwise, Romania's ruling coalition, made up of the PSD and its junior partner ALDE, must file a no-confidence vote in parliament that would dismiss the prime minister and allow it to nominate a replacement.
Longing for strong institutions
Though Romania the EU's fastest-growing economy - in the first quarter of this year, it expanded by 5.7 percent - it remains the bloc's second-poorest country. It is still in need of urgent investment into health care and transport infrastructure, both of which will likely be delayed amid the latest government crisis.
Shortly after taking power earlier this year, Grindeanu's government tried to pass a controversial bill that would have decriminalized several corruption offenses.
The move was foiled after demonstrators took to the streets in what were the largest mass protests seen since the fall of the Communist regime in 1989.
Analysts speculate that the move to oust Grindeanu was spurred by a falling out between the premier and the party leader, Dragnea.
The failed corruption legislation would have allowed Dragnea to run for prime minister despite being on trial for alleged abuse of power and voter fraud. The PSD leader has denied the charges.
"Liviu Dragnea only wants one thing: amendments to the anti-corruption laws," the former PSD member Alin Teodorescu told the Agence France-Presse.
dm/cmk (AP, AFP, Reuters)