A group of PSD members of parliament on Tuesday put forward a draft bill proposing that abuse of office offenses that cause financial damage of less than €200,000 ($237,100) should no longer be legally punishable.
Other proposed changes include lower sentences for bribe taking, decriminalizing taking bribes for someone other than the accused and decriminalizing the use of political office to obtain sexual favors.
Unlike in Poland, where the EU has started sanction proceedings against Warsaw, the European Commission's response to the judicial reform in Romania has been relatively muted so far.
Protecting entrenched interests
The changes would halt the trial of PSD leader and lower house speaker Liviu Dragnea (main photo, right), who is accused of abuse of office.
In another case before the courts, anti-corruption officials contend that former finance minister Darius Valcov received bribes.
The justice minister, Florin Iordache, was forced to step down in February, and later a vote of no confidence removed the prime minister, Sorin Grindeanu (main photo, left).
Romania's anti-corruption prosecution unit has sent 72 members of parliament to trial since 2006.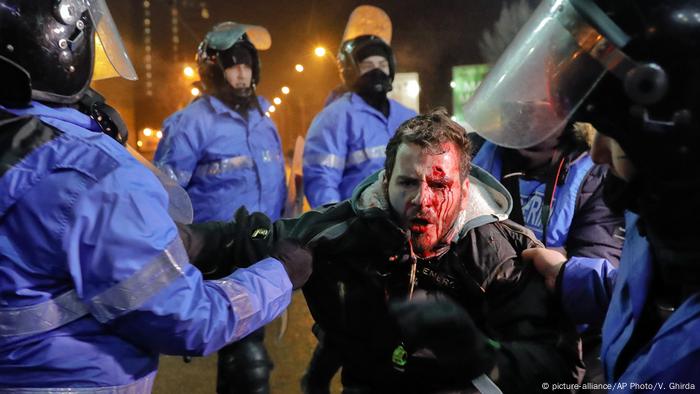 Riot police detain a man after clashes during a protest in Bucharest in February
Expect more protests
A similar attempt to decriminalize some abuse of office crimes set off large street protests at the start of 2017. The ruling coalition backed down then, but has revived the proposals.
Earlier this month the ruling coalition used its parliamentary majority to approve a judicial overhaul that puts magistrates under political control.
Tens of thousands of Romanians came out against the reforms, which they say threaten democracy, the principle of the separation of powers and European ideals and values in Romania.
Widespread condemnation
Centrist President Klaus Iohannis, the European Commission, the US State Department and seven EU states have criticized both the approved bills and the criminal code proposals.
Last Thursday, the eve of the anniversary of the 1989 (December 22) revolution, Iohannis warned against creeping anti-democratic tendencies. He now has to decide if he will sign the reforms into law.
PSD and its junior coalition partner ALDE have said the changes would not undermine the independence of the judiciary.
Corruption is endemic in Romania, which ranks 57th out of 176 countries in Transparency International's rankings of corruption perceptions.
jbh/jm (Reuters)