In a further sign that Sunday's referenda in Ukraine are testing nerves along Europe's eastern edge, EU and NATO member Romania has demanded that Russia explain a threat tweeted by its deputy premier Dmitry Rogozin (pictured above).
"A Russian Deputy Prime Minister threatening to use a strategic bomber is a very serious threat in the current regional context," Romania's foreign office said in a statement late Saturday.
Rogozin, who oversees Russia's arms industry, is one of the Russian officials sanctioned by the EU and US after Moscow annexed Crimea in March.
Petition papers confiscated
Associated Press reported in addition on Sunday that Moldovan authorities had confiscated boxes of secessionist petition signatures from Rogozin as he returned home from a commemorative ex-Soviet "Victory Day" visit to Trans-Dniester.
Moldova's pro-European government, which had asked him not to make the visit, said it would analyze the papers seized from Rogozin at Chisinau airport.
According to Rogozin's tweets posted in English on Saturday, Romania barred him on his way home from flying in a civilian aircraft through adjacent Romanian airspace. Ukrainian interceptor jets had also blocked his flight path, Rogozin said.
"Upon US request, Romania has closed its airspace for my plane," Rogozin tweeted. "Ukraine doesn't allow me to pass through again. Next time I'll fly on board TU-160."
The supersonic Soviet-era TU-160 is Russia's largest strategic bomber.
Visit to Tiraspol
In another message - sent one hour before his homeward flight was turned away - Rogozin tweeted: "this morning I met with the Command of the Joint Staff of Russian Forces in Transdniestria (sic)."
On Friday, while attending commemorations in Tiraspol, the main city of Trans-Dniester, to mark the 1945 Soviet victory over Nazi Germany, Rogozin offered support to residents favoring links with Russia. Trans-Dniester is not internationally recognized.
"Russia will do everything possible for Trans-Dniester not to be isolated," he said.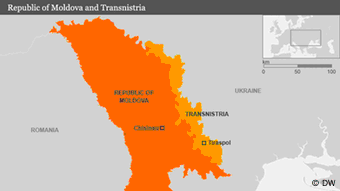 The Novosti PMR news agency quoted him as saying: "Russia has taken on the role of a guarantor of security, and depending on developments we will take concrete steps in this way."
Majority Russian-speaking Trans-Dniester - adjacent to southern Ukraine - broke away from Moldova in 1990 and voted for independence in 2006, but without international recognition. Russia has 1,500 troops in the region.
Romania demands explanation
Romania's foreign ministry said it had asked Moscow if Rogozin's remarks represented the "Russian Federation's official position towards Romania as an EU and NATO member."
Romania said its airspace denial complied with EU sanctions, including travel bans, imposed on selected Russian officials and pro-Moscow Ukrainian political and business leaders.
Moldova, one of Europe's poorest countries and Romania's eastern neighbor, is seeking closer ties with the EU.
ipj/tj (AP, Reuters, AFP)