Up for grabs is the massive art collection left behind by the billionaire banker, an heir to the Standard Oil dynasty and grandson of John D. Rockefeller. He died in March 2017 at the age of 101.
Read more: Legendary banker David Rockefeller dies at 101
Record-breaking pricesHighlights from the sale on Tuesday, which brought in more than $646 million (€546 million), included "Young Girl with a Flower Basket," a 1905 painting by Pablo Picasso. The painting previously belonged to writer Gertrude Stein, who had bought it directly from Picasso itself. The work, and its history, made it the most sought-after piece in the collection, fetching $115 million, one of the highest sums paid at auction for a work by the artist.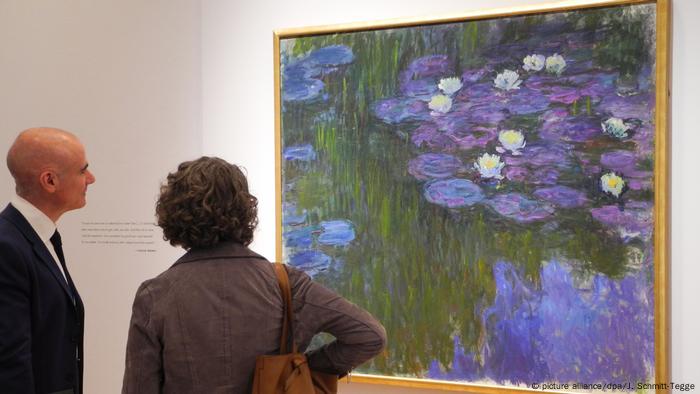 A piece from Monet's water lily series inspired by his home in Giverny fetched $84.69 million
Among the more than 2,000 items up for grabs in the auction besides the art are jewelry, furniture, silver and ceramics, including a porcelain dessert service that Napoleon took with him into exile.
Other individual artworks sold Tuesday garnered record prices for several painters. Claude Monet's "Water Lilies in Bloom," completed between 1914 and 1917 went for a record $84.6 million. "Odalisque reclining with magnolias" by Henri Matisse sold for a record $80.7 million and Paul Gauguin's seascape, "The Waves" brought in $35.2 million.
Read more: Opinion: $450 million for Christ — the art market's perversion of a symbol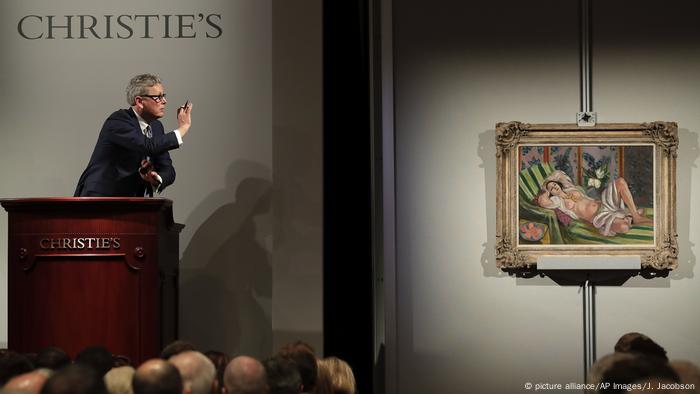 Global president of Christie's Jussi Pylkkanen taps the podium for Henri Matisse's "Odalisque reclining with magnolias"
American art on Wednesday
The auction Wednesday will shift to American art, as works from artists Willem de Kooning, Edward Hopper and John Singer Sargent go up on the chopping block.
Early estimates have held true as the collection brought in $648.4 million on Tuesday alone. That far surpasses the previous record for a collection, one which was set in 2009 by sales of a collection belonging to Yves Saint Laurent and Pierre Berge, which fetched $484 million. Proceeds of this sale will go to a number of philanthropies that had been supported by the Rockefellers during their lifetimes.
ct/eg (AP, AFP)