The image has been turned into a symbol. An unnamed bidder paid nearly half a billion dollars to acquire the "Salvator Mundi," a work that was — probably / perhaps / no one knows — painted by Italian Renaissance master Leonardo da Vinci.
Read more: Leonardo da Vinci painting smashes auction record at $450 million
No need to point out that this money, the equivalent of around €380 million, could have been invested in far more socially meaningful ways.
Current events speak for themselves: the Global Wealth Report, published by Credit Suisse just a day before Wednesday's auction in New York, found that the richest one percent of the planet owns half of the world's wealth.
The "Salvator Mundi" auction feels like a staged mockery confirming this infinite gap between the rich and poor.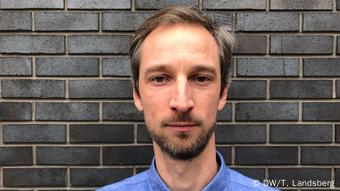 DW culture editor Torsten Landsberg
A 250-percent gain
The "Salvator" previously belonged to Russian billionaire Dmitry Rybolovlev, who bought the painting in 2013 for $127.5 million. He accused his Swiss art dealer of cheating him, as it was revealed that the dealer paid $80 million for it just a few days before reselling it with a hefty profit. Rybolovlev's 250-percent gain after Wednesday's sale might help soothe the pain.
Last summer, the €222-million-euro transfer of forward Neymar was seen as a sign of the moral decline of the football industry. The art world, just like football, has turned into a real-life Monopoly game, in which oligarchs, sheikhs and Asian billionaires move around their endless piles of cash, some of it gained under dubious circumstances.
Read more: 'Football is turning into a circus-like event'
The Leonardo da Vinci auction has simply pushed the limits of this game to an even more obscene level.
As if the bidders truly were using play money, the bids initially climbed by tens of millions, then by fives, until the bid reached $260 million, finally slowing down to increases of $2 million. The 19-minute-long tug of war between the last five bidders drove the painting to smash all previous auction records, reaching over four times more than Christie's presale estimate of $100 million.
Disputed authenticity
Experts from all over the world have spent years analyzing the painting. Some still doubt that it was actually painted by Leonardo himself; it might have been created by one of his students. In addition, the painting really isn't in a great condition, either.
But those concerns didn't really seem to matter during this auction; the painting rather served as a trophy. A person's life must be inconceivably boring when they need such a status symbol to enhance it.
You don't have to be religious to recognize the perversion in the symbolism of this image. "Blessed are those who hunger and thirst for righteousness, for they shall be filled": these are some of the words of wisdom attributed to Jesus, who is depicted as the "Savior of the world" on the painting that's currently the world's most expensive. For now, anyway, as the game of the super-rich will certainly continue.