The Düsseldorf-based Institute of Economic and Social Research (WSI) highlighted Germany's bitter paradox Friday that despite the country's export-led boom, poverty looms large for nearly one in six of its 82 million residents,, especially among persons with "migratory backgrounds."
The statistical poverty threshold is defined as a household having to make do with only 60 percent of the median monthly income as measured across households.
A single-person [household] is exposed to poverty risk when the net income undercuts €969 ($1122). For a four-person family, including two small children, the threshold is €2035 net per month.
In its latest report, based on 2017 micro-census data as yet unpublished by federal statisticians, the WSI puts the poverty risk quota for Germany as a whole at 15.8 percent.
The WSI is an economic and social science unit created in 1946 and part of the trade union-affiliated Hans-Böckler Institute.
Germany's poverty barometer
It amounted to a "new high" for Germany since the poverty barometerwas launched in 1996, said the WSI. The quota in 2016 was slightly lower, at 15.7 percent.
The researchers attributed the higher 2017 quota to the delayed impact of arrivals of more than 1.15 million refugees in 2015 and 2016, adding that impoverishment among the recently-arrived migrants as a group was far higher at 30.3 percent.
Poverty exposure among persons with so-called "migratory backgrounds" — defined federally as a person with a least one non-German parent — had declined slightly to 24.9 percent, the report added.
Looking only at residents born in Germany without any "migratory background" as a subgroup, their quota had declined from 12.6 percent in 2013 to 11.8 percent last year, said the WSI.
The micro-census in 2017 had left out hundreds of thousands of refugees housed communally who, at that stage, had not yet formed private households. Many, say the researchers, had since found regular employment.
The WSI researchers concluded that Germany continued to face the "central challenge" of helping migrants acquire German-language and vocational skills to integrate quickly into the labor market.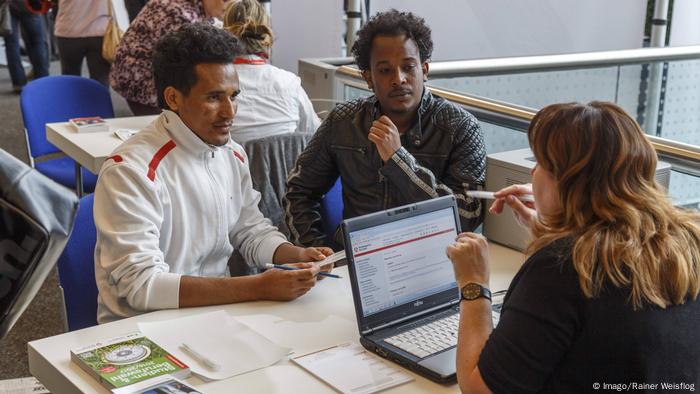 Keenly sought, if language and vocational skills match
Groups especially at risk
That asid,e the WSI researchers said three cohorts remained at risk from poverty – single parents, welfare recipientsand those without school-leaving qualifications.
And "especially many children" lay under the poverty threshold, they added.
"Their 2017 share of 20.7 percent was significantly above the level for the whole population and 0.2 percent higher than in the previous year," they said.
"Gratifying," however, was a decline in poverty exposure among the elderly to 14.6 percent, the WSI said. "For the first time the continual increase since 2011 has been interrupted."
Poverty despite job vacancies
Germany had 1.21 million open job vacancies in the second quarter of 2017, noted Germany's Institute for Labor Market and Career Research (IAB) on Tuesday.
The IAB, which is part of the Nuremburg-based Federal Employment Agency, said vacancies nationwide were up 115,000 on the same quarter of last year.
That equated to almost three open positions for every 100 regular jobs in Germany.
"In 2012 there were just two open positions [per 100). The demand for staff has thereby grown significantly," said the IAB, adding that demand was larger in Germany's eastern states where post-reunification salaries still tend to be lower.
ipj/rt (KNA, epd)
Every evening at 1830 UTC, DW's editors send out a selection of the day's hard news and quality feature journalism. You can sign up to receive it directly here.