The negotiators have agreed on most of the draft language on 12 major issues for a "binding international agreement," the newspaper reported, citing an internal report it had obtained.
The agreement would allow officials to obtain private information including credit card transactions, travel histories and Internet browsing habits, from opposite sides of the Atlantic.
Guarantees of privacy and redress for violation of privacy rules were however sticking points in the deal, the Times wrote.
The negotiators included officials from the US Homeland Security, Justice and State Departments, and their European Union counterparts.
US-German Deal
In March, the United States and Germany sealed a bilateral deal to facilitate the automatic exchange of data on suspected terrorists.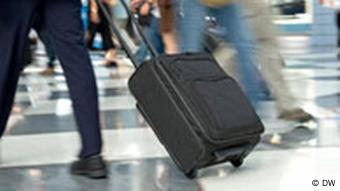 The EU and US struck a deal last year on international passenger data
The groundbreaking agreement, seen as a blueprint for similar accords between the US and other European countries, applied to a wide-ranging exchange of information, including the fingerprints and DNA of suspects.
Last year, the EU and US struck a hard-fought and controversial deal to share key international passenger data. Washington required the information as part of heightened security measures after the Sept. 11, 2001 terrorist attacks.