It all started as a seemingly simple rail tunnel construction project 5 meters (16 feet) under existing electrified railway tracks.
But it went wrong, and on August 12 the existing tracks above the tunnel sank at Rastatt, a town between Karlsruhe and Baden-Baden in Germany's southwestern state of Baden-Württemberg.
Water and soil intruded into the southern end of the incomplete tunnel, one of two parallel tubes planned to carry high-speed rail traffic under Rastatt from 2022.
The engineering accident halted traffic on a key European main truck line that connects the economies of the Netherlands, Germany, Switzerland, Italy and beyond.
Besides passenger trains, around 200 cargo trains would normally transit the bottleneck each day.
Read more: Stuttgart's controversial project
Closure until October
Late Tuesday, Germany's national rail operator Deutsche Bahn and the tunnel's construction consortium announced the closure would continue until October 7 to enable "comprehensive" repairs on the slumped 150-meter segment at Rastatt.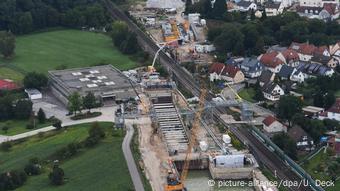 The tunnel being built under an important north-south axis which led to the tracks sinking
"As Deutsche Bahn we had hoped for a significantly shorter time plan. But, securing the tunnel and ensuring safe [future] operations of the Rhine Valley rail link is paramount," said Dr. Dirk Rompf, chairman of the rail operator's network subsidiary, DB Netz.
Deutsche Bahn said a concrete plug had already been inserted to prevent damage to the rest of the four-kilometer-long tunnel.
Overhead wires, the damaged steel tracks and gravel ballast would be removed. The damaged segment of tunnel would be filled with 10,000 cubic meters of concrete.
Above it, a thick, 120-meter-long concrete plate would be poured to carry replacement tracks.
Substitute busses, refunds
Long-distance passengers and commuters were being provided with frequent busses, running every five to ten minutes, to circumnavigate the closed segment.
"If customers, because of the altered travel times no longer wish to set out on their planned journeys, they can exchange their already purchased tickets or get them refunded," Deutsche Bahn added.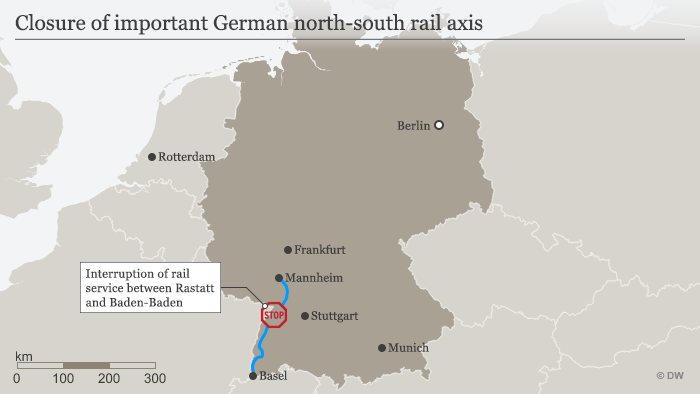 Freight backlog
The Network of European Railways (NEE), an industry association, had initially estimated that rail logistic companies were losing 12 million euros ($14 million) a week and warned that once Europe's summer vacation lull was over, freight demand would increase.
Complicating the freight backlog has been parallel construction work on alternative routes.
Deutsche Bahn's subsidiary, DB Cargo, said Tuesday the backlog had been reduced by redirecting freight trains via adjacent France, Bavaria and along Baden-Württemberg's Neckar river rail route.
Logistic branch representatives quoted by the German news agency DPA said customers were looking for alternatives, including trucking or shipping their goods on Europe's inland waterways, especially the adjacent Rhine river.
Machine entombed?
Curiously, the emergency work at Rastatt, where until Friday concrete is being injected under the sagging tracks, could also entombed part of a tunnel boring machine, said to be worth 18 million euros and stuck 40 meters from the tunnel's exit.
Klaus Pöllath, spokesman for the construction consortium said there were, however, methods to later recover the expensive machine.
The Rastatt tunnel is one of many projects to expand rail capacity along a 162-kilometer stretch between Rastatt and the Swiss border city of Basel, aimed at creating high-speed links between Rotterdam in the Netherlands and Genoa in Italy.
tr, ipj/rt (dpa, WeltN24)