High Court Judge Thokozile Masipa concluded handing down her judgment in the Oscar Pistorius trial on Friday (12.09.2014). She declared him not guilty of murder but instead said the athlete was guilty of culpable homicide. Masipa also found him guilty of handling a firearm recklessly in a public place. She however dismissed two other gun related charges.
Nathi Mncube, spokesperson for the National Prosecuting Authority (NPA) expressed his dissatisfaction with Judge Masipa's ruling. "We are very disappointed with the judgment that was delivered, but we do respect the judgment," Mncube said. "The judge has come to this decision that she has come to and we accept that and we respect that."
Handing down her judgment on the second and final day at the Pretoria High Court, Masipa reiterated her earlier assessment that the prosecution had failed to prove beyond reasonable doubt that Pistorius intentionally killed his girlfriend Reeva Steenkamp.
Tears and relief
Reeva's friend Gina Myers burst into tears as the verdict was being read and had to be consoled by the mother and sister of the deceased. But Arnold Pistorius, uncle to Oscar Pistorius, said the family never doubted the account given by the double amputee runner. "We would really like to show how deeply grateful we are to judge Masipa. We always knew the facts of the murder and we had never any doubt in Oscar's version," Arnold, who has taken on the role of spokesperson for the Pistorius family, said.
"Furthermore, in tragedy events like this there are no victors and it won't bring Reeva back but our hearts still go out for her family and friends," Arnold added.
Judge Masipa's verdict continued to elicit mixed reactions from South Africans. Samuel Mamba, a student at Pretoria University, told DW, he accepts the judge's decision. "She is a professional judge. She has been through a lot. She has seen these kinds of cases," Mamba said. To him, Masipa's verdict is justified because she has gone through all the evidence. "I agree with the judge because she is the one who has the final say."
Was justice served?
25-year-old Sibonisiwe Oliphant disagreed with the judge for not finding Pistorius guilty of premeditated murder. "He was a golden boy once, but now he is a murderer, so justice must be served. Oscar must go to jail."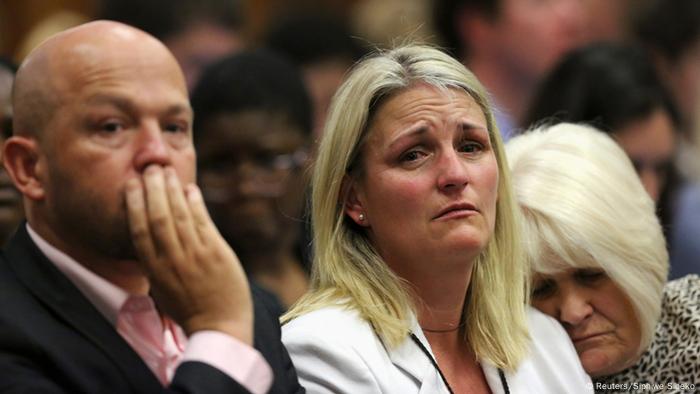 Relatives of Reeva Steenkamp shook their heads in disbelief
However, Claudi Wyk, a former Miss United Nations in the South African province of Limpopo, said fighting over who is wrong or right will not help. "Yes he is guilty. Surely he is guilty because he shot her but the point is what we are going to do afterwards," Wyk told DW. "Lives of two people, two families and even the whole of South Africa and internationally, has been affected," she added.
Even religious leaders have joined the debate. Michael Ndlovu, a church pastor, said he fears the judge's verdict might encourage other men to act like Pistorius. "They will kill their women and say it was an intruder. They will hide behind stress or they were thinking it was somebody coming to the house to rob, just bringing lousy excuses."
Judge Masipa has granted Pistorius an extension of his bail but he must appear before her courtroom on October 13 for sentencing.