If national elections were to take place right now, the Party of Democratic Socialism (PDS) would get 7.4 percent of the vote, according to a new poll by the Allensbach research institute.
That's a record high since German unification: In the 2002 elections, the party failed to get the 5 percent required to enter parliament. Only two PDS members now serve as parliamentarians because they were directly elected by their voting precinct.
Experts said the gains were to be expected as more and more people are unhappy with the government's reforms.
"During times of economic and social uncertainty, voters turn away from large parties," Everhard Holtmann, a political scientist at Martin Luther University in Halle-Wittenberg, told Focus Money magazine.
Holtmann added that the Greens, now a junior partner in Germany's governing coalition, experienced similar gains when they promoted environmental issues that had been widely neglected by other parties during the 1980s.
PDS could lead government in Brandenburg
Chancellor Gerhard Schröder (left) and Brandenburg Premier Matthias Platezck (both SPD) hope to regain voters' support by the Sept. 19 state elections
In eastern Germany, traditionally a PDS stronghold, the party has replaced Chancellor Gerhard Schröder's Social Democratic Party (SPD) as the second strongest political force behind the conservative Christian Democratic Union: 27 percent of voters would choose the PDS, according to the poll.
The party even has a chance to lead the next government of the state of Brandenburg, where elections are due to take place Sept. 19.
Latest surveys show the PDS overtaking the SPD to become the strongest political force in the state, which is currently governed by a SPD-led coalition with the CDU. So far, the PDS is a junior coalition partner in the northeastern German state of Mecklenburg-Western Pommerania as well as the city state of Berlin.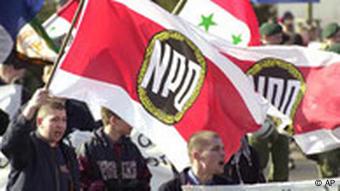 NPD supporters during a demonstration in 2003
The extreme right National Democratic Party (NPD), which the government has unsuccessfully tried to ban because of its neo-Nazi platform, is also getting increasing support from voters.
In the eastern German state of Saxony, where elections will also take place Sept. 19, the NPD could get 5 percent or more of the vote, according to surveys. The NPD also supports the reform protests.
But Holtmann said he didn't expect a major political upset.
"Protest voters don't change their basic convictions," he said. "They mainly want to teach politicians a lesson."
Chancellor: No further changes to reforms
The chancellor, meanwhile, said Wednesday that he did not support further changes to recently approved welfare reforms, which have led to demonstrations in mainly eastern German cities during the last weeks.
Responding to the protests, the government has made some minor changes to the reforms.