The UN ombudsman in Kosovo has said that the US Bondsteel military base in the province holds a prison that brings to mind the one in Guantanamo Bay, a German daily reported on Friday.
"There can be no doubt that for years there has been a prison in the Bondsteel base with no external civilian or judicial oversight," Marek Antoni Nowicki told Berliner Zeitung. "The prison looks like the pictures we have seen of Guantanamo Bay."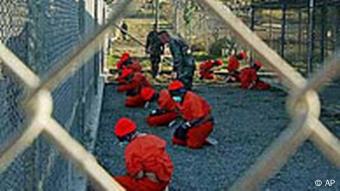 Prisoners at the US military base in Guantanamo Bay on the island of Cuba
Nowicki said he visited Bondsteel, in the east of Kosovo, in late 2000 and early 2001 when it served as the main detention center for KFOR, the NATO-led force that is responsible for peace and security in Kosovo. The Polish jurist who has been the UN ombudsman in Kosovo for the past six years said he has had no access to Bondsteel, where some 6,000 US soldiers are based, since 2001.
His statement comes amid a growing controversy over allegations that the United States intelligence services were flying terrorism suspects through European countries to take them to secret CIA prisons -- also suspected to be in eastern Europe -- where they were tortured.
US military denies shocking conditions in camp
The report backs up a statement by Council of Europe human rights commissioner Alvaro Gil-Robles in November that the US military ran a Guantanamo-type detention centre in Camp Bondsteel.
Gil-Robles told the French daily Le Monde he had been "shocked" by conditions at the center, which he witnessed in 2002. The camp resembled "a smaller version of Guantanamo", he said, referring to the US prison in Cuba, where hundreds of terror suspects are detained without trial.
Gil-Robles' claims were vigorously denied by the US military in Kosovo.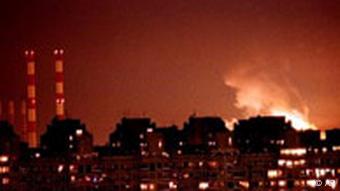 NATO bombings on Belgrade put an end to hostilities in the decaying Yugoslavian nation
The breakaway Serbian province came under UN and NATO control in June 1999 after NATO's 11-week bombing campaign ended a brutal crackdown by Serb forces of ethnic Albanian rebels.
During a 4-nation tour of Europe this week, US Secretary of State Condoleezza Rice said that her country "does not condone torture," but sidestepped questions on the existence of a network of secret CIA prisons.
Red Cross pushing for prisoner access
While governments in Europe accepted Rice on her word and took a more wait-and-see attitude, the Red Cross increased the pressure on the United States to be given more access to prisoners held in secret jails.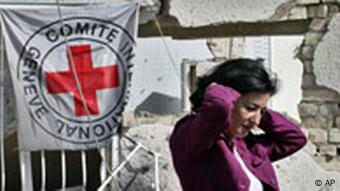 The Red Cross' presence in Iraq has been full with danger
"We have said that undisclosed detention is a major concern for us, Jakob Kellenberger, president of the International Red Cross, told a news conference. "We are already visiting very many detainees under US authorities in Guantanamo, Iraq and Afghanistan … with the aim of getting access to all people detained in the framework of the so-called war on terror."
John Bellinger, the US State Department's legal adviser, acknowledged to reporters in Geneva on Thursday that the ICRC does not have access to all detainees held by US forces, but refused to discuss alleged secret detention centers.
The Red Cross has been pressing the administration of US President George W. Bush for two years for information about and access to what the agency calls "an unknown number of people captured as part of the so-called global war on terror and held in undisclosed locations."