German Chancellor Angela Merkel welcomed the emir of Qatar to Berlin Friday, where the two held a press conference announcing cooperation between their respective countries.
Emir Sheikh Tamim bin Hamad Al Thani told reporters that Qatar was willing to sit down at the negotiating table to resolve the ongoing diplomatic crisis that it has with its neighbors.
"As you know we have had a siege of more than 100 days against Qatar," he said.
Merkel, for her part, voiced concern over the lack of a resolution to the dispute.
This week marked Al Thani's first trip abroad since his country became embroiled in a diplomatic crisis after Saudi Arabia, Egypt, the United Arab Emirates (UAE) and Bahrain cut off all diplomatic ties to Qatar­, which maintains close relations with Iran, accusing it of sponsoring terrorism.
Read more:What is the Qatar crisis?
The row erupted in June shortly after US President Donald Trump addressed Arab countries at a conference in Riyadh, calling for them to stand up and fight terrorism and to isolate Iran.
Qatar has vehemently denied the accusations and claims that the crisis was politically motivated.
A recent phone call between Saudi Crown Prince Mohammed bin Salman and Al Thani initially sparked hope of a solution to the crisis but that evaporated after the leaders publically disagreed on what was said during the conversation.
Merkel has repeatedly expressed a desire for a discreet, compromise solution to the crisis. Germany has supported efforts to find a diplomatic solution to the crisis and Foreign Minister Sigmar Gabriel has said German security services would do their part to clear Qatar of accusations of terror backing.
"We won't solve this conflict in the open with everyone in the world voicing their opinion," she said, calling for talks "that are not reported in the newspaper everyday."
Al Thani welcomed the calls for mediation and added that his country would not divest its 15 percent share in German automaker Volkswagen or its 6.1 percent share in Deutsche Bank.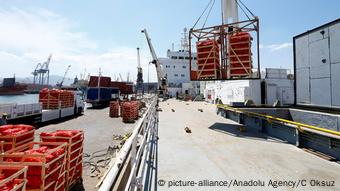 Turkey has shown support for Qatar by sending food to the beleagured country
Meeting with Erdogan
On Thursday, Al Thani met with Turkish President Recep Tayyip Erdogan, one of his staunchest supporters in the region.
Ankara also stressed the need to find a diplomatic solution with Erdogan's spokesman, Ibrahim Kalin, saying, "We support a resolution to the crisis through a brotherly manner and through dialog."
Ankara has sent food and military aid, as well as sending troops to the country, in an effort to help Qatar.
Qatar's accusers are demanding the country expel all Turkish troops currently stationed there, cut ties to Iran, close down the state-sponsored Al-Jazeera television station and sever all ties to other "terrorist organizations" such as Hezbollah and the Muslim Brotherhood.
The emir is expected to travel to Paris to meet with French President Emmanuel Macron after leaving Berlin.
js/kms (AP, dpa, Reuters)