On Monday, Qatar announced its decision to pursue proceedings at the World Trade Organization (WTO) against Saudi Arabia for violating intellectual property rights stemming from sports broadcasting licences.
The Economy Ministry charged that not only has Saudi Arabia blocked access to the Qatari-owned broadcaster beIN: It has also failed to take action against illegal broadcaster beoutQ.
"As a result of the arbitrary and discriminatory measures implemented by Saudi Arabia, beIN has suffered damages in excess of $1 billion (860 million)," a statement from beIN read.
Qatari authorities accuse beoutQ of pirating beIN content and rebroadcasting it via the Riyadh-based satellite provider Arabsat.
Other broadcasters have also had their content stolen, including NBC Universal, Telemundo and Eleven Sports, according to beIN.
Since June 2017, Saudi Arabia and its allies have imposed an embargo on Qatar and cut diplomatic ties for allegedly supporting terrorism, an accusation Doha has strongly denied.
Read more: Did Qatar use 'black ops' to win World Cup bid?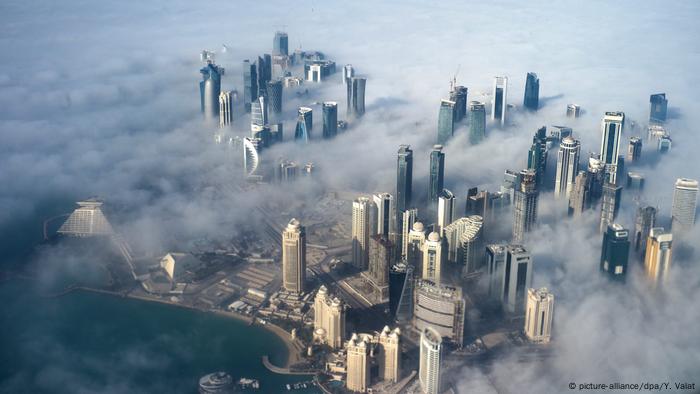 Qatar has been at the center of a Saudi-led embargo
FIFA takes a stand
But Qatar isn't the only one concerned. In July, world football governing body FIFA said it would take legal action against broadcasters pirating its content, especially beoutQ, which it called a "pirate entity."
"FIFA urges the authorities of Saudi Arabia and of the different countries where these illegal activities have been observed to support us in the fight against piracy," it said in a statement.
Read more: Is Qatar failing to deliver on its World Cup promises?
The English Premier League and tennis governing bodies have also launched legal proceedings against beoutQ for illegally broadcasting content.
ls/rt (AFP, Reuters)
Each evening at 1830 UTC, DW's editors send out a selection of the day's hard news and quality feature journalism. You can sign up to receive it directly here.