NATO Secretary-General Jens Stoltenberg on Monday swiftly dismissed allegations made by Russian President Vladimir Putin that a legion from the Western political and military alliance was underpinning the Ukrainian army.
"The statement that there is a NATO legion in Ukraine is nonsense. There is no NATO legion," Stoltenberg told reporters following a crisis meeting between NATO ambassadors and Kyiv officials in Brussels called to discuss the latest escalation in fighting between the Ukrainian army and pro-Russia separatists in Ukraine's east.
"The foreign forces in Ukraine are Russian," he added.
Stoltenberg was responding to televised comments made by Putin earlier Monday as he visited a gathering of students in St. Petersburg (pictured). Putin had said those fighting against pro-Russia separatists in eastern Ukraine were a mixture of Ukraine's army and "voluntary nationalist battalions."
"In essence, this is not an army; this is a foreign legion - in this particular case NATO's foreign legion, which of course does not pursue the objective of serving Ukraine's national interests. There are completely different goals there," Putin said, saying they aimed to achieve "Russia's geopolitical containment."
Confrontational rhetoric from on high, war on the ground
Putin appeared to be responding to Western threats of fresh sanctions in response to the increasing violence in eastern Ukraine in recent days. The separatists have gone on the offensive and fighting has reached its worst level since a - now essentially defunct - peace plan was signed in Minsk last September. On Saturday an estimated 30 people were killed and dozens more injured in the government-controlled Azov Sea port city of Mariupol after rocket fire hit a residential area.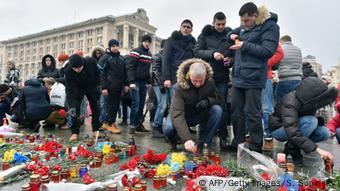 Saturday's victims in Mariupol were mourned in Kyiv
Fighting continued in various parts of eastern Ukraine on Monday, especially around the government-held town of Debaltseve, which lies between the separatist strongholds of Donetsk and Luhansk. The Kyiv government ordered a state of emergency across the two eastern provinces dominated by the separatists, and put the rest of the country on high alert.
Western leaders accuse Russia of fueling the violence by supplying the separatists in Ukraine with munitions and troops, something the Kremlin denies. Moscow has accused Kyiv of failing to negotiate directly with the separatists, thereby "refusing a peaceful solution."
EU foreign ministers are scheduled to meet on Thursday to discuss potential further action against Russia while Washington was also considering its options.
The UN Security Council was also due to hold a special meeting on Ukraine later on Monday, as both sides accuse the other of endangering civilians by firing into residential areas. According to UN estimates, more than 5,000 people have been killed in the Ukraine conflict since April 2014.
Raid on Crimea TV station
On Monday Russian authorities conducted a raid on a television station run by members of the Crimean Tatar minority on the Russia-annexed Black Sea peninsula.
The Crimean Tatars, a 300,000-strong Muslim community native to Crimea, had opposed Moscow's takeover of the region and boycotted the disputed referendum last March in which voters chose to split from Ukraine.
Dozens of armed and masked men searched the headquarters of broadcaster ATR in Simferopol, seizing computer servers and other equipment. Russia's Investigative Committee said the raid was to probe the deaths of two Crimea locals at a rally last February.
se/kms (AFP, Reuters, AP, dpa)