The Kremlin confirmed on Thursday that Russian President Vladimir Putin scolded Igor Komarov - the head of Russia's space agency Roscosmos - as well as Deputy Prime Minister Dmitry Rogozin for the delay, Russian news agency TASS said.
Additionally, the Russian daily "Kommersant" said that space industry executive Leonid Shalimov was also "warned of his partial professional ineptitude," TASS reported.
One day prior, the president warned that there would be consequences and "an appropriate reaction" for Wednesday's last minute call-off just seconds ahead of the launch.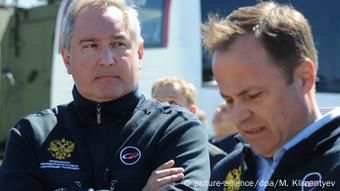 Rogozin (L) and Komarov (R) were reportedly reprimanded by Putin for the last-minute launch delay
However, the Russian leader was full of praise for the cosmodrome staff following Thursday's successful start to the space mission.
"The proof is in the pudding. You need a successful first launch to prove that the space centre is ready for work. You have done it," congratulated the Russian leader.
"Computers played it safe and aborted yesterday's flight to go through their checklists once more. There is no harm done. On the contrary, everything has been done with quality in mind, in the best possible manner," Putin said, according to a transcript on the Kremlin's website.
The Soyuz 2.1a booster blasted off from the new Vostochny Cosmodrome near Russia's border with China early on Thursday. Roscosmos said in a statement that the three satellites the rocket was carrying have begun orbiting.
Roscosmos officials have said they are still working on determining exactly what went wrong on Wednesday, when the process was abandoned two minutes before the engines were set to start.
rs/jm (AP, Reuters, dpa)