The Soyuz-type rocket took off from the new Vostochny Cosmodrome early on Thursday, with President Vladimir Putin attending the launch near the Chinese border.
Previously, the Russian space agency Roscosmos scheduled the launch for Wednesday, but the process had to be aborted less then two minutes before engines were set to start.
A glitch in the flight control system initiated "an automatic halt," according to Roscosmos.
The incident sparked criticism from President Putin, who decried the "large number of hitches" in Russian space program.
After the Thursday launch, however, Putin congratulated Roscosmos and the spaceport staff.
"This is something to be proud of," Putin said.
"Yesterday, the technical equipment was a bit overzealous and it stopped the launch, but we could have launched yesterday as well," he added.
Counterweight for Baikonur
According to Roscosmos, the unmanned rocket put three civilian satellites into orbit, including an experimental nanosatelite to test the technology of controlling small devices in space.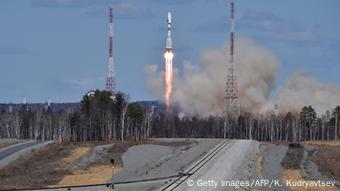 The new Vostochny spaceport has been plagued by delays and corruption scandals
Putin told Vostochny employees that the next stage would be launching a heavy rocket from the facility's launch pad.
"There is much more work to be done […] but this is a very serious and very important step in the development of Russian space exploration," he said.
Vostochny is located in Russia's Amur region, some 1,560 kilometers (960 miles) from Russia's eastern-most port city of Vladivostok.
The opening of the spaceport in eastern Russia should reduce Moscow's dependence on the Baikonur cosmodrome in Kazakhstan. Russia reportedly pays 115 million dollars (101 million euros) every year for using the spaceport in the ex-Soviet state.
However, Putin's chief of staff, Sergei Ivanov, told reporters on Thursday that Russia would use Baikonur cosmodrome "for a long time to come."
dj/kms (dpa, Reuters, AFP, Interfax)