Considered one of the world's most important contemporary artists, German painter Gerhard Richter, has described the Ukraine war as "criminal."
"They say, 'We are not waging a war, the others are killing themselves'," said Richter, adding that "Putin is lying."
It is particularly shocking that Putin denies he is waging a war at all and that he blames the civilian victims on Ukraine,the 90-year-old artist told Germany's dpa news agency on Wednesday.
Richter, who lives in the western city of Cologne, donated five art prints of his famous candle paintings in an extra-large format to "Kunst hilft Geben" (or Art Helps Give), a non-profit organization in Cologne. Richter's various works range from oils on canvas to overpainted photographs.
He dated these particular prints with the day the war began — February 24, 2022.
'A symbol of hope'
He said the image of the candles can be seen as "a symbol of hope or consolation."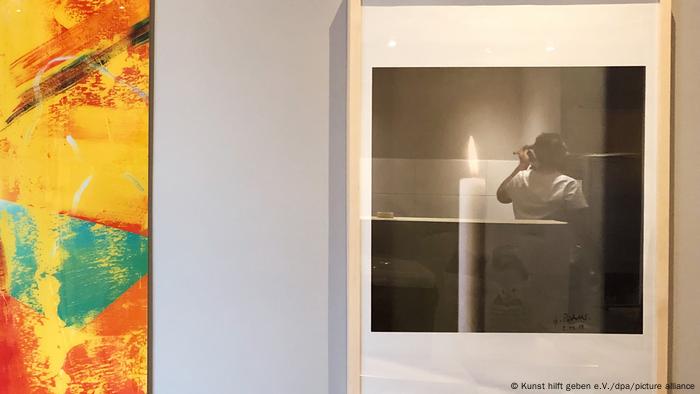 One of the famous Richter candle paintings
"You can always have hope," the German artist said, adding that unfortunately, he cannot imagine a quick end to the war at the moment.
The Richter prints are estimated to have a value of at least €30,000 ($32,500) each, according to Dirk Kästel, initiator and chairman of the board at Art Helps Give. The proceeds of the sales are earmarked for refugees from Ukraine as well as for war victims in the country. Kästel said his organization sends them medicine and food among others. "We also provide aid in Ukraine's border region with the help of our cooperation partners."
And Richter is not the only contributor to the organization's campaign: 44 artists have already donated 108 works of art for the cause, including Rosemarie Trockel, Benjamin Katz, Sabine Moritz, Jonathan Meese and Thomas Baumgärtel. Some of the artworks will be auctioned by Van Ham in Cologne, while others are to be sold online at www.kunst-hilft-geben.de.
db/bh/dpa