Eight months after Hurricane Maria churned across Puerto Rico, a US court order has forced the government in San Juan to begin releasing data on all deaths on the island since the storm. The official death toll stands at 64, but a recent study estimated that at least 4,645 more people died in the three months after Hurricane Maria than over the same period in the previous year.
Lauracelis Roques, the judge who issued the order, wrote, "People still don't have a clear picture as to how many lives were lost due to a lack of food, medicine, health services or simply because of an ineffective response to an emergency. That's why it's urgent to shed light on all components of government preparedness and response."
There isn't much time for lessons to be learned. This year's hurricane season began on June 1. With the island still in struggling to recover from Maria, Puerto Ricans fear a fresh onslaught.
White House press secretary Sarah Sanders recently described the US federal government's response to Maria as being of "historic proportion." That raised hackles in Puerto Rico. Carmen Yulin, mayor of the island's capital of San Juan, tweeted, "The federal response was a historic failure."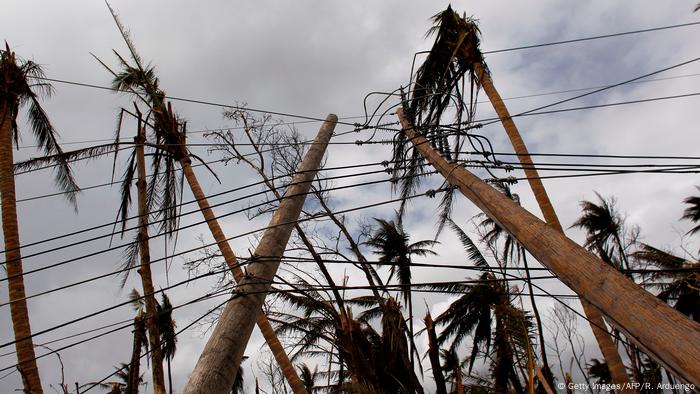 Maria wreaked devastation on the island's power system, tearing down cables and knocking out substations
Struggling without power
Nearly every substation in Puerto Rico's electricity grid suffered damage in the storm. Power crews sent from the mainland have concluded their work on island, yet thousands of Puerto Ricans are reportedly still without power.
The Federal Emergency Management Agency (FEMA) told DW it spent $2.1 billion on restoring the island's grid and more than $700 million on supplying and maintaining temporary power generators. FEMA said local electrical workers would provide power to the "final less than 1 percent" of Puerto Rico's 3.3 million people still in the dark.
But activist Christine Nieves is skeptical of that figure, pointing to frequent protests against ongoing blackouts in her area of the island. "It's not 1 percent," Nieves told DW. "It's the same thing as the deaths. Someone's lying or the numbers are wrong. It can't be that there's 1 percent when we have marches all the time because so many people in the east don't have electricity."
In the days after the storm, Nieves opened a communal kitchen in the village of Mariana, near the island's east coast, which the hurricane hit first. Donated solar panels and a storage battery mean the kitchen doesn't depend on the grid, and have turned it into a hub for people charging phones, coffee makers, radios and even oxygen masks.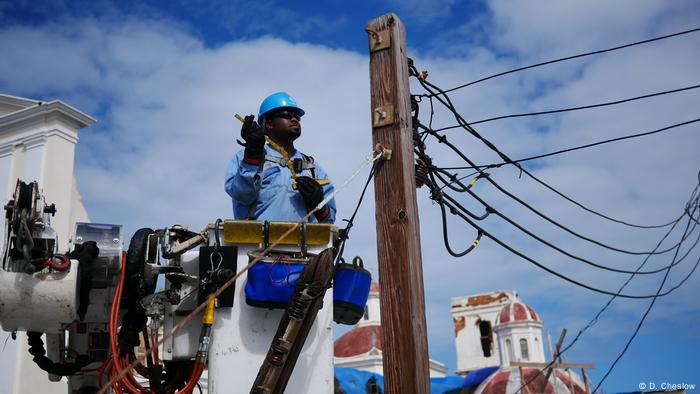 Power crews were brought in from the mainland to get Puerto Ricans back on the grid but have now gone home
Nieves said the ongoing power shortage is draining hope as the prospect of further hurricanes looms. She had hoped to pioneer a financial model to enable low-income Puerto Ricans to install solar panels on their roofs, but has not found a backer.
Solar solutions
Still, her project is an oasis of energy. Puerto Rico's Pura Energia company donated solar panels and the German sonnen company donated a battery to store energy. Nieves recently received a solar generator from Californian company BoxPower that powers eight laundry machines, an "ideas incubator" and a hostel on site.
Adam Gentner, director of sonnen's business development in Latin America told DW Puerto Rico has become the company's largest single market in the US, with around 400 solar energy storage batteries sold since the storm. The company also donated 12 solar power systems to power laundries, health clinics and other facilities around the island at a total cost of around $350,000.
US solar companies, meanwhile, have partnered with the Clinton Foundation on an initiative called Solar Saves Lives that has committed to installing solar power generation and storage systems at more than 20 health centers across the island.
Local solar companies have also seen a boost in sales, too. Before the storm San Juan-based firm New Energy mainly sold solar panels, managing partner Alejandro Uriarte told DW. But since Maria it has installed more than 350 storage batteries.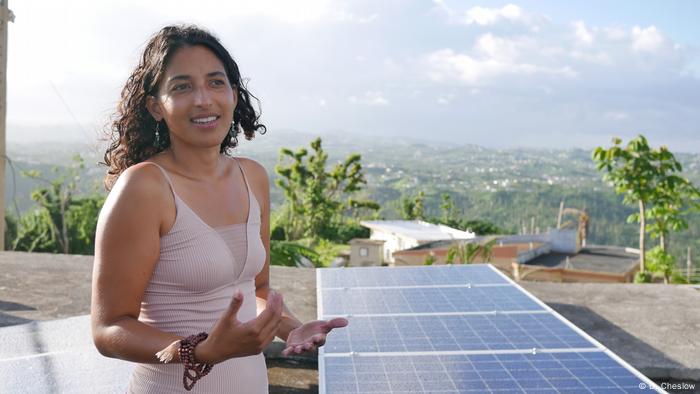 Christine Nieves used solar power to create a supportive hub for her community
Uriarte said he was stockpiling these systems in case a storm raises demand, or blocks the port where they're shipped in. "We are not ready for another hurricane," Uriarte wrote. "Even if we don't have a direct hit again but a slight brush of a storm, the grid will go down again for potentially weeks. We are instructing people that they need to become self sufficient with energy to prepare for the worst."
Renewables still a drop in the ocean
The vast operation of restoring the old grid, which runs on oil-burning power plants has reportedly cost some $3.8 billion so far. And repair is slapdash in places, with cables bolted to fruit trees or rotten posts – evidence that pressure to get the job done has trumped safety standards.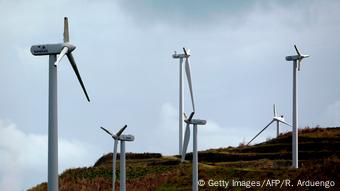 Battered wind turbines in Naguabo, Puerto Rico, pictured in the weeks after the storm
While renewable power companies are hopeful of expanding their business in Puerto Rico, there are no quick fixes to damage on this scale. Gentner said it is possible the island actually uses less renewable power today than before the hurricane, because several major windfarms and solar installations were damaged in the storm are yet to be reconnected.
A green reboot of the Puerto Rico's power system is a long-term goal, Gentner stressed. Speaking over the phone from the balcony of a sweltering rental apartment in San Juan, he painted a picture of the island's more immediate concerns.
"The skies are clear right now and the power's out," Gentner said. "The prospect of a hurricane is frankly terrifying down here, given that the energy situation is not ready."