The Dalai Lama spoke to an audience of around 7,000 people in the northern city of Hamburg on Saturday, at the beginning of his visit to Germany.
The Buddhist spiritual leader called for a stronger commitment to global peace in a speech that touched on issues such as compassion, non-violence and forgiveness.
The people of Iraq and Syria should also have the right to peace and security, the 79-year-old said, as he criticized the Jihadist IS group, which currently controls territory in both countries.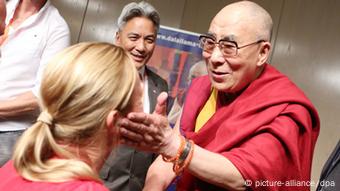 "The emotions are out of control," said the Nobel peace laureate of the ongoing hostilities in the Middle East. "I do not expect any major changes in our generation. But the future is in our hands," he said.
The Dalai Lama said he hoped "the 21st century will be a century of peace, a century of dialogue - a century when a more caring, responsible and compassionate humanity will emerge."
Dalai Lama's visit met by protests
During what is his sixth visit to Hamburg, the Dalai Lama is expected to give a lecture on a text from Mahayana Buddhism. But his visit was accompanied by loud protests from a fundamentalist Buddhist group.
The International Shugden Community (ISC) accuses the Dalai Lama of human rights violations. "There have been violent attacks in Buddhist monasteries against supporters of Dorje Shugden," said Annette Mai, an ISC spokeswoman, adding that the group had been marginalized and persecuted.
The Dalai Lama believes the cult, which worships a spirit known as Dorje Shugden, is dangerous. "I have asked these believers not to practice it anymore. It's their responsibility whether they stick to it."
China has ruled Tibet since 1950, after the Chinese government sent its People's Liberation Army to occupy and annex the region.
In 1959, the Dalai Lama led a failed uprising against the Chinese government in Tibet and fled to India. An estimated 100,000 Tibetans still live in exile in India. The Dalai Lama and the Tibetan government-in-exile are headquartered in the northern hill town of Dharamsala.
Tensions with the Chinese government continue to run high in the territory, with more than 100 Tibetans having set themselves on fire in protest in recent years.
jr/glb (dpa, epd)