Several hundred young people rallied in eastern Paris on Sunday as initial projections coming in from France's first-round presidential voteshowed centrist Emmanuel Macron and far-right leader Marine Le Pen heading to the runoff election.
The protesters, some from anarchist and "anti-fascist" groups gathered in Bastille square - the historic site where the 1789 French Revolution began.
Paris police fired tear gas to disperse the crowd while riot police surrounded the area.
Some of the protesters threw firecrackers and bottles, according to a journalist with news agency AFP. Three people were arrested, police said.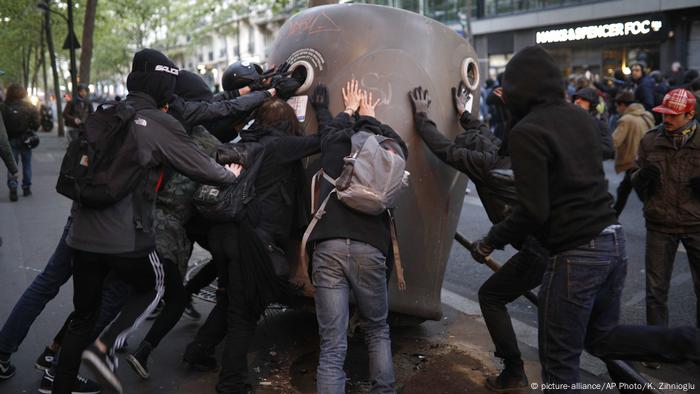 Young protesters threw firecrackers and also pushed over a glass bottle container while protesting Le Pen's advancement to the presidential runoff
One protest leader called on the crowd to rally "against Marine and against Macron."
Another demonstrator told AFP: "We have come here to protest against the pantomime of this election."
The Paris Prefecture of Police advised motorists on Twitter to avoid the Bastille area.
Another "anti-fascist demonstration" took place later on Sunday in the coastal city of Nantes. Protesters angry with Le Pen's anti-immigrant policies and her National Front party have attended several of Le Pen's campaign events.
The National Front leader has attempted to clean up her party's image, including expelling her father for his repeated remarks downplaying the Holocaust. She still insists, however, that France is at risk of cultural dilution from immigration, multiculturalism and globalization.
Le Pen is due to face off against Macron, a former banker, in France's runoff vote on May 7.
rs/bw (AP, AFP, dpa)